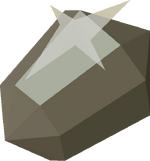 The shadow diamond is one of the four Diamonds of Azzanadra which must be obtained during the Desert Treasure quest. It is located in the Shadow Dungeon and is obtained by killing both of Damis' forms.
It is recommended that players deposit this gem on the bank as soon as they obtain it, along with the other Diamonds of Azzanadra, as a level 95 stranger may appear and attack them if they are holding one of them. The more diamonds you have on you, the more likely the stranger will appear and attack you.
NPCs

Archaeologist • Archaeological expert • Malak • Ruantun • High Priest • Troll child • Troll mother • Troll father • Rasolo • Eblis • Azzanadra

Enemies

Items

 Etchings •  Translation •  Silver pot •  Blessed pot •  Garlic powder •  Bandit's brew •  Spiked boots •  Gilded cross •  Warm key •  Ring of visibility •  Ancient staff

Diamonds

 Blood diamond •  Ice diamond •  Smoke diamond •  Shadow diamond

Related
Semiprecious stones

 Pearl (Pearls) •  Opal (Uncut) •  Jade (Uncut) •  Red topaz (Uncut) •  Amethyst

Precious stones

 Sapphire (Uncut) •  Emerald (Uncut) •  Ruby (Uncut) •  Diamond (Uncut) •  Dragonstone (Uncut) •  Onyx (Uncut) •  Zenyte (Uncut) (Shard)

Quest-related gems

 Blood diamond •  Ice diamond •  Smoke diamond •  Shadow diamond •  Black prism •  Charged onyx •  Deconstructed onyx

Others

 Carved gem •  Enchanted gem •  Eternal gem •  Mystic jewel •  Polished blue gem (Unpolished)
Community content is available under
CC-BY-SA
unless otherwise noted.