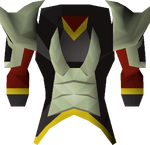 The Shayzien platebody (5) is a platebody that requires 20 Defence to equip, and is part of the Shayzien armour (tier 5) set. In order to receive the armour, players must have 100% favour in Great Kourend's Shayzien House.
It is dropped by the tier 5 soldier at the Combat ring in Shayzien.
In terms of defensive bonuses, it lies between the steel platebody and mithril platebody.
Dropping monsters
Standard

 Bronze •  Iron •  Steel •  Black •  White •  Mithril •  Adamant •  Rune •  Dragon

Treasure Trails

 3rd age

Trimmed

Gold-trimmed

 Bronze •  Iron •  Steel•  Black •  Mithril •  Adamant •  Rune •  Gilded •  Dragon

God

Shayzien

Other

 Carnillean •  Corrupted •  Khazard •  Obsidian •  Statius's

Barrows
Castle Wars
Ironman
Temple Knight