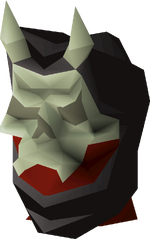 The Shayzien supply helm (4) is a helmet that requires level 79 Smithing and 2 lovakite bars to create, granting 20 Smithing experience.
In order to smith the armour, players must have at least 60% favour in Great Kourend's Lovakengj House.
It is given to the armourer (tier 4) for favour towards the Lovakengj House. Players who give a full set of tier 4 supply armour in the form of a Shayzien supply set (4) will gain more experience and favour.