Fire Emblem Warriors: Three Hopes - The Loop
Play Sound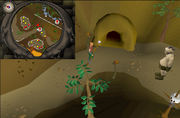 The Skavid caves are a set of six caves around the ogre city of Gu'Tanoth. The caves are inhabited by the Skavid, a race of creatures enslaved by the Ogres. The caves are an important feature of the Watchtower quest. Also, two caves each have a slow spawn of cave nightshade (also known as nightshade or belladonna).
Players need Light sources and Skavid maps to enter any of the caves.
Skavid caves 'transport system'
If players attempt to enter a Skavid cave without having a Skavid map in their inventory, they become confused and end up outside another Skavid cave. In some cases, this feature can actually be exploited as a transport system since it follows a fixed route, as shown by the arrows on the map. For example, a player running from Castle Wars to Gu'Tanoth could attempt to enter the north-west cave (ending up at the north-central one), attempt to enter the north-central one (ending up at the north-east one), and then run up the hill to the city gates. The player does not need to have a light source to use this feature.
Using the Skavid caves as a transport system is faster than walking from cave to cave. While it seems no faster than running, run energy is not used up.
Note: This feature cannot be used if the player has a Skavid map in inventory.
NPCs

Watchtower wizard • Tower guard • Og • Toban • Grew • Ogre guard

Enemies

Skavids

Items

 Crystal •  Fingernails •  Toban's gold •  Toban's key •  Ogre tooth •  Rock cake •  Skavid map •  Ground bat bones •  Magic ogre potion •  Shaman robe

Useless

 Old robe •  Unusual armour •  Damaged dagger •  Tattered eye patch

Ogre relic

 Ogre relic •  Part 1 •  Part 2 •  Part 3

Locations

Watchtower • Gu'Tanoth • Skavid caves • Ogre Enclave

Music

Related