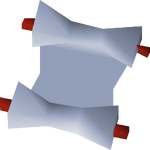 The sketch is a quest item obtained from Gujuo during the Legends' Quest. Gujuo gives the sketch to the player after speaking with his tribe's shaman, Ungadulu, who is currently trapped in a magical flame pit inside a cave in the jungle.
The sketch is a rough drawing of a gold bowl that the player must make in order to quench the flames that are holding Ungadulu prisoner.
NPCs

Legends guard • Radimus Erkle • Jungle forester • Gujuo • Ungadulu

Enemies

Nezikchened • Ranalph Devere • Irvig Senay • San Tojalon • Viyeldi

Items

 Bull roarer •  Sketch •  Blessed gold bowl •  Holy water •  Binding book •  Yommi tree seeds •  Bravery potion •  Dark dagger •  Glowing dagger •  Holy force

Notes

 Radimus notes •  Scrawled note •  A scribbled note •  Scrumpled note

Crystals

Related
Community content is available under
CC-BY-SA
unless otherwise noted.