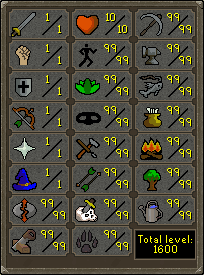 A Skill pure, or Skiller, is a type of pure that only develops non-combat skills. Skillers keep their Combat skills at level 1, leaving their combat level at 3. This makes it challenging to gain levels, as some regions of Gielinor have high-damage dealing monsters to be wary of, and some simply require quests with combat involved.
Skill pures are recommended to equip a training bow, standard bow, standard crossbow, or a phoenix crossbow without wielding any ammo. Also, skill pures are advised to set the options to hide the attack options on both players and monsters in the options tab to hidden. This is to prevent gaining any Combat experience in the event that a monster is accidentally attacked.
This is a really challenging way to compete with the rest, and is seen among other skillers as being really rewarding!
It should be noted that the best gloves that a level 3 skiller can get is limited to Steel, as other Recipe For Disaster quests require killing monsters or getting combat experience.
Quests
The following quests can be completed by Skill pures as they do not reward the player with any experience points in skills that would raise the character's combat level. Some quests require food and rings of recoil.
Finishing all of these quests would require the following skill levels:

Free-to-play quests
Members' quests
Notes (quests)
Achievement diaries
These following diaries can be done by skill pure whilst keeping Combat at level 3.
Notes:
The Karamja easy diary required killing a level 53 Jogre. This could be done with a high level friend recoiling the jogre down to low Hitpoints and the skiller inflict the last damage on it.
Opening the sarcophagus yields 20 Strength experience.
Activities
There are also certain activities a skill pure can do. Activities listed below are possible to play whilst keeping Combat at level 3.
Notes (activities)
↑

It is recommended for skillers to play in the Collector role, for they can stand near the cannons and only pick up eggs when there are no monsters around.

↑

The opponent of the skill pure must forfeit for him or her to win, which is simply useless, as no reward is given except for stake duels.
Strategies
Certain non-combat skills help skill pures in Combat, specifically defending. These skills are extremely helpful and recommended to be trained.
| Skill | Uses |
| --- | --- |
| Slayer | Gives access to more equipment. (The bug lantern is unlocked at 33 Slayer.) |
| Agility | Reduces energy usage rate, for quests with monsters on paths. |
Some skill pures also have a set-up when doing quests or activities involving combat. Here's a common one that keeps the items up to three to prevent losing items.
| Slot(s) | Equipment used |
| --- | --- |
| Main hand | Any bow (without ammo, prevents combat) |
| Boots | Boots of lightness (reduces weight) |
| All but weapon, shield, ring slots | Graceful outfit (reduces weight, set effect increases run energy restore rate) |
| Ring | Ring of recoil (deals damage to enemies) |
See also