Raise a Floppa - The Loop
Play Sound

The Slayer's staff (e) is a magical staff obtained by using a Slayer's enchantment on a Slayer's staff. It requires 75 Magic and 55 Slayer to wield and can be used in place of a Slayer's staff to cast Magic Dart.
Upon enchanting the staff, it will have 2,500 charges. Once the charges run out, it will revert back to a regular Slayer's staff, and an additional Slayer's enchantment must be used on it.
Using the staff substantially increases the damage dealt by the Magic Dart spell when attacking a monster the player is assigned to kill. Specifically, the max hit of the spell when using the slayer's staff (e) becomes , rounded down. This stacks with other magic-damage boosts like the Occult necklace, Tormented bracelet, and Black mask (i)/Slayer helmet (i).
When used to attack a monster that is not your slayer assignment, no charges will be used, and the damage of Slayer Dart will not be boosted. Splashing on task will also cause no charges to be used.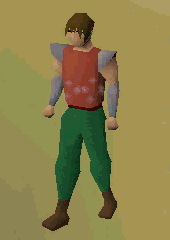 Maximum hit
The maximum hit dealt by the staff is dependent on the player's current Magic level, starting at 25 with level 75 Magic, up to a maximum of 31 at level 108 (with an imbued heart). Both magic damage bonuses and stat boosts will modify the max hit of the spell; likewise, stat-reductions will lower the damage. With an occult necklace equipped, the maximum hit possible is 34. With an occult necklace, an imbued zamorak cape, a tormented bracelet, and an imbued slayer helmet on a Slayer assignment, the maximum hit possible is 41.

Magic level
Maximum hit
Maximum hit
(no bonuses)
Maximum hit
()
Maximum hit
( + )

or ()

Maximum hit
( + + )
Maximum hit
( + + +
75
25
28
29
33
34
76
25
28
29
34
34
77
25
28
29
34
34
78
26
28
30
34
34
79
26
28
30
34
35
80
26
28
30
34
35
81
26
29
30
35
35
82
26
29
30
35
35
83
26
29
30
35
35
84
27
29
31
35
36
85
27
29
31
36
36
86
27
30
31
36
36
87
27
30
31
36
36
88
27
30
31
36
37
89
27
30
32
36
37
90
28
30
32
37
37
91
28
30
32
37
37
92
28
31
32
37
37
93
28
31
32
37
38
94
28
31
33
38
38
95
28
31
33
38
38
96
29
31
33
38
38
97
29
32
33
38
39
98
29
32
33
38
39
99
29
32
34
39
39
100[1]
29
32
34
39
39
101[1]
29
32
34
39
39
102[1]
30
32
34
39
40
103[1]
30
32
34
40
40
104[1]
30
32
35
40
40
105[1]
30
32
35
40
40
106[1]
30
32
35
40
40
107[1]
30
32
35
40
41
108[1]
31
33
35
41
41
109[1]
31
33
35
41
41
Staves

 Staff (+4) •  Magic (+10) •  White (+10) •  Air (+10) •  Water (+10) •  Earth (+10) •  Fire (+10) •  Bryophyta's (+15) •  Ancient (+15) •  Slayer's (e) (+12) •  Iban's (u) (+10) •  Toktz-mej-tal (+15) •  Ahrim's (+15) •  Staff of the dead (toxic) (+17) •  Staff of light (+17) •  Zuriel's (+18)

Battlestaves

 Battlestaff (+10) •  Air (+10) •  Water (+10) •  Earth (+10) •  Fire (+10) •  Lava (or) (+10) •  Mud (+10) •  Steam (or) (+10) • Smoke (+10) •  Mist (+10) •  Dust (+10)

Mystic staves

 Air (+10) •  Water (+10) •  Earth (+10) •  Fire (+10) •  Lava (or) (+10) •  Mud (+10) •  Steam (or) (+10) • Smoke (+10) •  Mist (+10) •  Dust (+10)

Tridents

 Starter staff (+10)  Trident of the seas (e) (+15) •  Trident of the swamp (e) (+25) •  Sanguinesti staff (+25) •  Dawnbringer (+25)

Wands

 Beginner (+5) •  Apprentice (+10) •  Teacher (+15) •  Master (+20) •  3rd age (+20) •  Kodai (+28)

Croziers

 Ancient (+10) •  Armadyl (+10) •  Bandos (+10) •  Guthix (+10) •  Saradomin (+10) •  Zamorak (+10)

Other

 Broken (+0) •  Staff of armadyl (+0) •  Cursed goblin staff (+0) •  Skull sceptre (i) (+4) •  Dramen (+10) •  Lunar (+13) •  Rod of ivandis (+4) •  Ivandis flail (+8) •  Thammaron's sceptre (+20) •  Pharaoh's sceptre (+10) •  Void knight mace (+8)
Equipment from Slayer Masters

 Broad arrows •  Earmuffs •  Facemask •  Insulated boots •  Leaf-bladed spear •  Nose peg •  Mirror shield •  Slayer gloves •  Slayer's staff •  Spiny helmet •  Lit bug lantern •  Witchwood icon

Items from Slayer Masters

 Bag of salt •  Enchanted gem •  Fishing explosive •  Fungicide spray •  Fungicide •  Rock hammer •  Rock thrownhammer •  Ice cooler •  Slayer bell •  Broad arrowheads •  Unfinished broad bolts •  Broad arrowhead pack •  Unfinished broad bolt pack

Purchased with Slayer reward points

 Slayer ring (eternal) •  Broad bolts •  Herb sack •  Slayer helmet (imbued) •  Black slayer helmet (imbued) •  Green slayer helmet (imbued) •  Red slayer helmet (imbued) •  Purple slayer helmet (imbued) •  Turquoise slayer helmet (imbued)

Others

 Black mask (imbued) •  Leaf-bladed sword •  Leaf-bladed battleaxe •  Slayer's staff (e)