REDIRECT Template:Item
A Slayer cape is the Cape of Accomplishment for players who have achieved level 99 in the Slayer skill. The cape can be purchased for 99,000 coins from Duradel (slayer master), in Shilo Village. Slayer capes are black in colour, and have a red trim if the player has more than one level 99 skill. Note that since Duradel is in Shilo Village, the Shilo Village Quest must be completed before the player can enter the village.
It is difficult to obtain 99 slayer before any other skill, since hitpoints experience is gained at a faster rate. However, people have managed to achieve this through use of a Dwarf multicannon, the Controlled attack style, Poison, and Rings of recoil.
Although Slayer is considered the longest and most tedious 99 to achieve, it is not the rarest (trimmed) skillcape in the game. The current rarest trimmed skillcape is the Construction cape.
Gallery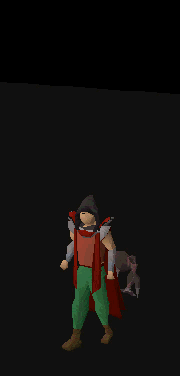 Capes

 Agility (Hood) •  Attack (Hood) •  Hitpoints (Hood) •  Construction (Hood) •  Cooking (Hood) •  Crafting (Hood) •  Defence (Hood) •  Farming (Hood) •  Firemaking (Hood) •  Fishing (Hood) •  Fletching (Hood) •  Herblore (Hood) •  Hunter (Hood) •  Magic (Hood) •  Mining (Hood) •  Prayer (Hood) •  Ranging (Hood) •  Runecrafting (Hood) •  Slayer (Hood) •  Smithing (Hood) •  Strength (Hood) •  Thieving (Hood) •  Woodcutting (Hood) •  Quest point (Hood) •  Achievement diary (Hood) •  Music (Hood) •  Max (Hood)

Cape sellers

 Cap'n Izzy No-Beard •  Ajjat •  Surgeon General Tafani •  Estate agent •  Head chef •  Master Crafter •  Harlan •  Martin the Master Gardener •  Ignatius Vulcan •  Master fisher •  Hickton •  Kaqemeex •  Hunting expert •  Wizard Sinina •  Gadrin •  Brother Jered •  Armour salesman •  Aubury •  Duradel •  Thurgo •  Sloane •  Martin Thwait •  Woodsman tutor •  Wise Old Man •  Twiggy O'Korn •  Olaf the Bard •  Mac

Emote

Skillcape