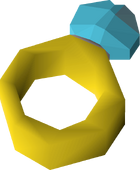 The Slayer ring (eternal) is a special slayer ring that gives unlimited teleport charges compared to the eight of its regular counterpart.
Like the regular ring, making it requires level 75 Crafting (can be boosted). Players must have the eternal gem, a gold bar, and a ring mould in their inventories and use the gold bar on a furnace to make the ring. Making a ring yields 15 Crafting experience, the same as an ordinary gold ring.
Be warned that once crafted, the gem cannot be taken out of the ring. Also, if lost to another player, it will completely disappear.
Players can obtain the eternal gem used to make the ring by killing superior slayer monsters, which are rare encounters unlocked after purchasing the unlock Bigger and Badder for 150 Slayer reward points from any Slayer master. The gem can also be purchased from other players or from the Grand Exchange. To make the ring, players must learn how to do so for a one-time cost of 300 points.
Teleports
The ring will teleport players to any of the locations displayed below.
The slayer ring will allow players to teleport at up to level 30 Wilderness.
Destination
Details
Slayer Tower
Players will arrive just inside the main door on the

ground

 floor[

?

]. Players can use this for fast access to Canifis. Requires completion of Priest in Peril.
Fremennik Slayer Dungeon
Players arrive just inside the entrance to the dungeon. This destination is notable because it is the third closest possible teleport to a fairy ring, the Quest point cape teleport being the closest.
Tarn's Lair
Players arrive in an empty room next to terror dogs. Requires completion of Haunted Mine quest.
Stronghold Slayer Cave
Players will arrive just outside the entrance to the dungeon. Those who use NPC Contact may find this teleport useful as they can easily cancel/block their tasks with Nieve and use NPC contact with other Slayer masters (such as Duradel) to get a new task. This teleport spot is also close to a Bank.
Dark Beasts
After completion of Mourning's End Part II the ring can be used to teleport the player directly to dark beasts, without the need for Mourner clothing
Equipment from Slayer Masters

 Broad arrows •  Earmuffs •  Facemask •  Insulated boots •  Leaf-bladed spear •  Nose peg •  Mirror shield •  Slayer gloves •  Slayer's staff •  Spiny helmet •  Lit bug lantern •  Witchwood icon

Items from Slayer Masters

 Bag of salt •  Enchanted gem •  Fishing explosive •  Fungicide spray •  Fungicide •  Rock hammer •  Rock thrownhammer •  Ice cooler •  Slayer bell •  Broad arrowheads •  Unfinished broad bolts •  Broad arrowhead pack •  Unfinished broad bolt pack

Purchased with Slayer reward points

 Slayer ring (eternal) •  Broad bolts •  Herb sack •  Slayer helmet (imbued) •  Black slayer helmet (imbued) •  Green slayer helmet (imbued) •  Red slayer helmet (imbued) •  Purple slayer helmet (imbued) •  Turquoise slayer helmet (imbued)

Others

 Black mask (imbued) •  Leaf-bladed sword •  Leaf-bladed battleaxe •  Slayer's staff (e)
Standard

 Opal •  Gold •  Jade •  Topaz •  Sapphire •  Emerald •  Ruby •  Diamond •  Dragonstone •  Onyx •  Zenyte

Enchanted

 Pursuit •  Returning •  Efaritay's aid •  Recoil •  Dueling •  Forging •  Life •  Wealth (imbued) •  Stone •  Suffering (imbued)

Fremennik

 Archers (imbued) •  Berserker (imbued) •  Seers (imbued) •  Warrior (imbued)

Wilderness

 Treasonous (imbued) •  Tyrannical (imbued) •  Ring of the gods (imbued)

Transformation

Other

 Beacon •  Charos (activated) •  Granite (imbued) •  Lunar •  'Perfect' •  Slayer (eternal) •  Stolen garnet •  Visibility
Community content is available under
CC-BY-SA
unless otherwise noted.