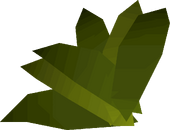 Snapdragon is a herb which can be cleaned at level 59 Herblore. It may be grown from a snapdragon seed with a Farming level of 62, granting 98.5 farming experience for every snapdragon grown. Once planted, the herb takes 80 minutes to fully grow. It is possible to grow 3-9 snapdragons from one seed or 5-16 if using supercompost and magic secateurs. It is received as a drop from some high levelled monsters.
Snapdragons are used to make super restore potions and sanfew serums with a Herblore level of 63 and a Herblore level of 65 respectively.
You may also purchase Snapdragons for 10 tickets each from the Brimhaven Agility Arena.
Uses
Super restore potions can then be used to make Sanfew serum by adding snake weed, a ground unicorn horn, and nail beast nails.
Dropping monsters
| Monster | Combat level | Quantity | Rarity |
| --- | --- | --- | --- |
| Zulrah | 725 | 10 (noted) | |
Normal herbs

| | |
| --- | --- |
| Grimy |  Guam leaf •  Marrentill •  Tarromin •  Harralander •  Ranarr weed •  Toadflax •  Irit leaf •  Avantoe •  Kwuarm •  Snapdragon •  Cadantine •  Lantadyme •  Dwarf weed •  Torstol |
| Clean |  Guam leaf •  Marrentill •  Tarromin •  Harralander •  Ranarr weed •  Toadflax •  Irit leaf •  Avantoe •  Kwuarm •  Snapdragon •  Cadantine •  Lantadyme •  Dwarf weed •  Torstol |

Special herbs

Grimy herbs

 Ardrigal •  Rogue's purse •  Sito foil •  Snake weed •  Volencia moss

Clean herbs

 Ardrigal •  Rogue's purse •  Sito foil •  Snake weed •  Volencia moss

Other

 Bruma herb •  Doogle leaves •  Goutweed •  Mysterious herb

Chambers of Xeric

| | |
| --- | --- |
| Grimy |  Golpar •  Buchu leaf •  Noxifer |
| Clean |  Golpar •  Buchu leaf •  Noxifer |