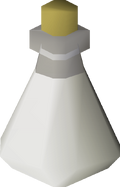 Sodium chloride is a quest item found in Recruitment Drive during the Miss Cheevers challenge. It is picked up along with many useful ingredients from shelves in the room, but is not necessary to complete the challenge. If the sodium chloride is mixed incorrectly into the other ingredients it may produce one of the ??? mixtures or the strange tin.
Trivia
Sodium chloride is the scientific name for table salt.
When used with dihydrogen monoxide, the character says "I have no time for brine!", which is a term for saltwater.
NPCs

Sir Amik Varze • Sir Tiffy Cashien • Lady Table • Sir Kuam Ferentse • Sir Spishyus • Miss Cheevers • Sir Ren Itchood • Ms. Hynn Terprett • Sir Tinley

Enemies

Sir Leye

Items

 Grain •  Fox •  Chicken •  Cupric sulfate •  Acetic acid •  Gypsum •  Sodium chloride •  Nitrous oxide •  Vial of liquid •  Tin ore powder •  Cupric ore powder •  Metal spade •  Metal spade (head) •  Alchemical notes •  Bronze key •  Chisel •  Bronze wire •  Shears •  Magnet •  Knife •  ??? mixture •  Makeover voucher •  Hourglass

Tin

 Empty •  Gypsum •  Hardening •  Impression •  Tin •  Copper •  Tin and copper •  Key •  Strange

Initiate armour

Music

Related
Community content is available under
CC-BY-SA
unless otherwise noted.