Raise a Floppa - The Loop
Play Sound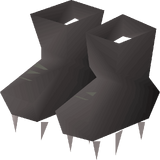 Spiked boots are boots that can be obtained by bringing Dunstan (the Burthorpe blacksmith), an iron bar and a pair of climbing boots. Dunstan will only help after a player completes a required portion of the Death Plateau quest.
These boots are used during Desert Treasure while trying to obtain the Ice diamond on the Ice Path segment. The spiked boots are unequipable, except during portions of Death Plateau and Desert Treasure. After the quest they may only be needed to complete a step in a master level Treasure Trails.
Trivia
Attempting to wear the boots outside of the Ice Path results in the message: Trying to walk in those would be difficult. I'll carry them for now.
NPCs

Archaeologist • Archaeological expert • Malak • Ruantun • High Priest • Troll child • Troll mother • Troll father • Rasolo • Eblis • Azzanadra

Enemies

Items

 Etchings •  Translation •  Silver pot •  Blessed pot •  Garlic powder •  Bandit's brew •  Spiked boots •  Gilded cross •  Warm key •  Ring of visibility •  Ancient staff

Diamonds

 Blood diamond •  Ice diamond •  Smoke diamond •  Shadow diamond

Related
Melee

 Rock-shell •  Bronze (Fighting • Fancy) •  Iron •  Steel •  Black •  White •  Mithril •  Adamant •  Samurai •  Rune (Gilded) •  Granite •  Dragon (g) •  Bandos •  Guardian •  Primordial

Ranged

 Spined •  Leather •  Frog-leather •  Snakeskin • Blessed •  Ranger •  Pegasian

Magic

 Skeletal •  Ghostly •  Moonclan •  Splitbark •  Wizard •Mystic •  Darkness •  Infinity •  Lunar •  Eternal

Other

 Antisanta •  Builder's • Canifis •  Chicken •  Climbing •  Clue hunter •  Desert •  Devout •  Evil chicken •  Fremennik • Fremennik sea •  Gardening • Gnome •  Graceful •  Gravedigger •  H.A.M. •  Holy •  Insulated •  Lightness •  Mime •  Mourner •  Pirate •  Rogue •  Runner •  Santa • Shayzien•  Shoes •  Silly jester •  Skeleton •  Slave •  Spiked •  Zombie

Experience-boosting

 Angler •  Farmer's •  Lumberjack •  Prospector •  Pyromancer