No Man's Sky Update - The Loop
Play Sound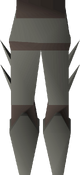 Spined chaps are a piece of Ranged armour. To wear spined chaps, the player must have at least 40 Defence, 40 Ranged, and have completed The Fremennik Trials quest. Stat wise, they are identical to Green d'hide chaps.
To obtain spined chaps, a player can either bring 2 dagannoth hides, 1 stretched hide, and 7500 coins to Sigli the Huntsman in Rellekka, receive it as a drop from Dagannoth Supreme, or trade with another player.
Spined chaps are also a requirement for a master clue scroll.
Dropping monsters
Headgear

 Void (+0) •  Cowl (+1) •  Coif (+2) •  Slayer helmet (i) (+3) •  Snakeskin (+4) •  Spined (+6) •  Archer helm (+6) •  Ranger hat (+6) •  Blessed (+7) •  Karil's (+7) •  Robin hood hat (+8) •  Third-age (+9) •  Armadyl (+10) •  Morrigan's (+13)

Bodies

 Void (+0) •  Leather (+2) •  Hardleather (+8) •  Studded(t)(g) (+8) •  Frog-leather (+10) •  Snakeskin (+12) •  Rangers' (+15) •  Spined (+15) •  Green d'hide(t)(g) (+15) •  Blue d'hide(t)(g) (+20) •  Red d'hide(t)(g) (+25) •  Black d'hide(t)(g) (+30) •  Blessed (+30) •  Third-age (+30) •  Karil's (+30) •  Armadyl (+33) •  Morrigan's (+36)

Legwear

 Void (+0) •  Frog-leather (+2) •  Leather (+4) •  Snakeskin (+6) •  Studded(t)(g) (+6) •  Green d'hide(t)(g) (+8) •  Spined (+8) •  Yak-hide (+10) •  Blue d'hide(t)(g) (+11) •  Red d'hide(t)(g) (+14) •  Penance skirt (+15) •  Black d'hide(t)(g) (+17) •  Blessed (+17) •  Third-age (+17) •  Karil's (+17) •  Armadyl (+20) •  Morrigan's (+23)

Vambraces

 Void (+0) •  Spined (+0) •  Hardleather (+1) •  Bronze (+2) •  Iron (+3) •  Steel (+4) •  Leather(spiked) (+4) •  Black (+5) •  Mithril (+6) •  Snakeskin (+6) •  Combat bracelet (+7) •  Regen bracelet (+7) •  Adamant (+7) •  Rune (+8) •  Green d'hide(spiked) (+8) •  Dragon (+9) •  Blue d'hide(spiked) (+9) •  Red d'hide(spiked) (+10) •  Black d'hide(spiked) (+11) •  Blessed (+11) •  Third-age (+11) •  Ranger (+11) •  Barrows (+12)

Boots

 Spined (+0) •  Frog-leather (+2) •  Snakeskin (+3) •  Blessed (+7) •  Ranger (+8) •  Pegasian (+12)

Capes

 Ranging (+0) • Fire cape (+1) • Infernal cape (+1) •  Ava's attractor (+2) •  Ava's accumulator (+4) •  Ava's assembler (+8)

Amulets

 Accuracy (+4) •  Power (+6) •  Glory (+10) •  Fury (+10) •  Anguish (+15)

Rings

 Archers (+4) •  Archers (i) (+8)

Shields

 Hard leather (+2) •  Snakeskin (+3) •  Green d'hide (+4) •  Book of balance (+4)•  Blue d'hide (+5) •  Red d'hide (+6) •  Black d'hide (+7) •  Unholy book (+8) •  Book of law (+10) •  Odium ward (+12) •  Dragonfire ward (+15) •  Twisted buckler (+18)
Yak-hide armour
Rock-shell armour
Spined armour
Skeletal armour

Fremennik robes

Rings

 Warrior (imbued) •  Berserker (imbued) •  Seers (imbued) •  Archers (imbued)

Helms

 Fremennik •  Archer •  Berserker •  Farseer •  Warrior •  Helm of neitiznot

Fremennik cloaks

 Cyan •  Brown •  Blue •  Green •  Red •  Grey •  Yellow •  Teal •  Purple •  Pink •  Black

Fremennik shirts

Others

 Fremennik blade •  Fremennik shield •  Fremennik shield (The Fremennik Isles)