Fire Emblem Warriors: Three Hopes - The Loop
Play Sound
The staff of the dead is a one-handed staff that requires 75 Magic and 75 Attack to wield. It is dropped by K'ril Tsutsaroth, and counts as a Zamorakian item while in the God Wars Dungeon and in the desert Bandit camp. It is one of the few items that boosts the player's magic damage, boosting it by 15%.
When a combat spell is cast with the staff, there is a 12.5% (1/8) chance that the staff will negate the rune cost for that spell. The staff can be substituted for a Slayer's staff for casting Magic Dart (and is more accurate than a Slayer's staff), and can autocast Flames of Zamorak and Crumble Undead.
The staff is notable for its offensive melee stats, which are unusually high for a Magic weapon. Its stats are comparable to the dragon longsword; the longsword has 3+ better stab bonuses, but the staff has +1 better slash and strength bonus in addition to the magic damage boost, accuracy, and a faster attack speed.
The staff of the dead offers an attack speed of 6 when using melee, which is the same as weapons such as the abyssal whip. However, when using magic spells, it offers an attack speed of 5, which is the same as all spells, except for the trident of the seas or swamp.
Combat styles
Special attack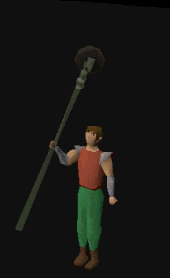 The staff has a special attack, Power of Death, that halves all Melee damage of your opponent(s) (all opponents that hit you in the time of the special attack) for one minute at a cost of 100% special attack energy. This effect stacks with the PvP damage reduction effect of the Protect from Melee prayer, but is lost if the staff is unequipped.
The special attack cannot be used in the Duel Arena if magic is disabled.
Upgrading
Players with level 59 Crafting can attach a magic fang to the staff using a chisel, creating a toxic staff of the dead. This enhances its magic attack bonus by +8, and has the ability to infect a target with venom. However, taking advantage of these benefits requires using Zulrah's scales to charge the staff. Targets can only be infected with venom while using a magic attack, but using both melee and magic attacks will consume Zulrah's scales.
Alternatively, players can use Saradomin's light on the staff of the dead to create the staff of light, which inherits the effects of the staff of the dead. This process is irreversible. The only differences between the two staves is that the staff of light is able to autocast Saradomin Strike instead of Flames of Zamorak, and it counts as a Saradominist item while in the God Wars Dungeon and in the Desert Bandit Camp.
Dropping monsters
Comparison between other magic weapons
Name
Levels to equip
Magic Attack bonus
Notes
Kodai wand
75
+28

Can autocast Ancient Magicks.
Provides unlimited water runes while equipped.
Boosts magic damage by 15%.
When a combat spell is cast with the staff, there is a 15% chance that the wand will negate the rune cost for that spell.
Currently offers the highest stat of any magic weapon in both magic attack and defence.

Sanguinesti staff
75
+25

Slightly stronger than the Trident of the swamp, with the same stats but able to hit one damage higher.
Built-in spell damage scales with the player's Magic level and can hit up to 32 at 99 .
Has a 1 in 6 chance to heal the wielder by half the damage dealt.
Tied with the Toxic staff of the dead and Trident of the swamp for second-highest magic attack bonus.

Trident of the swamp
75
+25
Toxic staff of the dead
75

75

+25

Has the same benefits as the Staff of the dead, but with +8 more magic attack bonus.
Requires Zulrah's scales to recharge (up to 11000).
Has 25% chance to inflict venom on an opponent.
Tied with the Sanguinesti staff and Trident of the swamp for second-highest magic attack bonus.

Master wand
60
+20

Can autocast Ancient Magicks.
Requires 240 Telekinetic, 240 Alchemist, 2400 Enchantment and 240 Graveyard points, and a teacher wand equipped or in the player's inventory, to purchase from the Mage Training Arena. Thus it does not cost much besides the time and runes spent in the Mage Training Arena.

Staff of light
75

75

+17
Staff of the dead
75

75

+17

Can autocast Flames of Zamorak and Magic Dart.
Boosts magic damage by 15%.
Has a special attack that halves all melee damage the player takes for one minute, which stacks with the PvP damage reduction effect of the Protect from Melee prayer. This consumes 100% of the player's special attack.
When a combat spell is cast with the staff, there is a 1/8 (12.5%) chance that the staff will negate the rune cost for that spell.
Currently the strongest staff when used as a melee weapon, surpassing the Ancient staff and Iban's staff, and provides +17 magic defence.

Trident of the seas
75
+15

Has its own built-in spell, requiring charges which cost 115 runes and 10 coins per cast. Can hold up to 2,500 charges.
Built-in spell damage scales with the player's Magic level and can hit up to 28 at 99 .
Has a weapon speed of 6 (same as scimitars/whip), while all other forms of combat magic only have 5 (same as longswords).
Because the spell is built-in, the player does not need to carry its runes in their inventory and can use Lunar spells or Ancient Magicks while wielding this staff.

Smoke battlestaff
30 (Battlestaff)
+10
Iban's staff
50

50

+10

Only staff able to cast (and autocast) Iban Blast. Can cast this spell up to 120 (2,500 if upgraded) times before needing to be recharged.
Iban Blast has a max hit of 25.
Currently the third strongest staff when used as a melee weapon, behind the Ancient staff and the (Toxic) Staff of the dead.

God staves
60
+6
Ancient staff
50

50

+15

Can autocast Ancient Magicks.
Currently the second strongest staff when used as a melee weapon, behind the (Toxic) Staff of the dead.

Slayer's staff
50

55

+12

Can autocast Magic Dart and Crumble Undead, in addition to the four Wave spells.
Runes required to cast Magic Dart are very cheap compared to spells of a similar level.
Maximum hit of Magic Dart is 10 + (player's magic level / 10), rounded down.

Elemental staves
1 (Basic)
+10

Provide unlimited runes of their respective elements.
However, they have a slower attack speed than better staves (3 seconds per cast instead of 2.4)
Trivia
Staves

 Staff (+4) •  Magic (+10) •  White (+10) •  Air (+10) •  Water (+10) •  Earth (+10) •  Fire (+10) •  Bryophyta's (+15) •  Ancient (+15) •  Slayer's (e) (+12) •  Iban's (u) (+10) •  Toktz-mej-tal (+15) •  Ahrim's (+15) •  Staff of the dead (toxic) (+17) •  Staff of light (+17) •  Zuriel's (+18)

Battlestaves

 Battlestaff (+10) •  Air (+10) •  Water (+10) •  Earth (+10) •  Fire (+10) •  Lava (or) (+10) •  Mud (+10) •  Steam (or) (+10) • Smoke (+10) •  Mist (+10) •  Dust (+10)

Mystic staves

 Air (+10) •  Water (+10) •  Earth (+10) •  Fire (+10) •  Lava (or) (+10) •  Mud (+10) •  Steam (or) (+10) • Smoke (+10) •  Mist (+10) •  Dust (+10)

Tridents

 Starter staff (+10)  Trident of the seas (e) (+15) •  Trident of the swamp (e) (+25) •  Sanguinesti staff (+25) •  Dawnbringer (+25)

Wands

 Beginner (+5) •  Apprentice (+10) •  Teacher (+15) •  Master (+20) •  3rd age (+20) •  Kodai (+28)

Croziers

 Ancient (+10) •  Armadyl (+10) •  Bandos (+10) •  Guthix (+10) •  Saradomin (+10) •  Zamorak (+10)

Other

 Broken (+0) •  Staff of armadyl (+0) •  Cursed goblin staff (+0) •  Skull sceptre (i) (+4) •  Dramen (+10) •  Lunar (+13) •  Rod of ivandis (+4) •  Ivandis flail (+8) •  Thammaron's sceptre (+20) •  Pharaoh's sceptre (+10) •  Void knight mace (+8)
Bosses

Items

| | |
| --- | --- |
| Godswords |  Armadyl (or) •  Bandos (or) •  Saradomin (or) •  Zamorak (or) |
| Armadyl armour | |
| Bandos armour |  Chestplate •  Tassets •  Boots |
| Weapons |  Saradomin sword (blessed) •  Zamorakian spear (hasta) •  Staff of the dead (toxic) •  Armadyl crossbow •  Steam battlestaff (or) |
| Pets |  Kree'arra •  General Graardor •  Commander Zilyana •  K'ril Tsutsaroth |
| Other | |

Music

Armageddon • Armadyl Alliance • Bandos Battalion • Strength of Saradomin • Zamorak Zoo

Related