Raise a Floppa - The Loop
Play Sound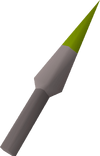 The steel knife is a Ranged throwing weapon that is only available to members. The player must have at least 5 Ranged to wield this throwing knife. They can be obtained either by using the Smithing skill or trading with another player. Throwing knives can be poisoned and can be wielded with a shield or prayer book for protection.
To create steel throwing knives the player must have at least 37 Smithing. Each steel bar will create 5 steel throwing knives and the player will receive 37.5 Smithing experience.
Steel knives can be bought from Martin Thwait's Lost and Found shop in the Rogues' Den. They are also rarely generated by Ava's accumulator.
Combat styles
Shortbows

 Normal(u) •  Oak(u) •  Willow(u) •  Maple(u) •  Yew(u) •  Magic(u) (i)

Longbows

 Normal(u) •  Oak(u) •  Willow(u) •  Maple(u) •  Yew(u) •  Magic(u)

Composite bows

Special bows

 Training •  Starter •  Cursed goblin •  Ogre •  Seercull •  Craw's •  Dark •  3rd age •  Crystal •  Twisted

Crossbows

 Normal •  Phoenix •  Bronze •  Blurite •  Iron •  Steel •  Mithril •  Dorgeshuun •  Adamant •  Hunters' •  Rune •  Dragon •  Dragon hunter •  Karil's •  Armadyl

Ballistae
Darts

 Bronze •  Iron •  Steel •  Black •  Mithril •  Adamant •  Rune •  Dragon •  Toxic blowpipe

Throwing knife
Throwing axes

 Bronze •  Iron •  Steel •  Mithril •  Adamant •  Rune •  Dragon •  Morrigan's

Chinchompas
Other items

 Arrows •  Bolts •  Cannon •  Cannonball •  Granite cannonball •  Holy water •  Javelins •  Mud pie •  Toktz-xil-ul
Melee weapons

 Dagger •  Axe •  Mace •  Claws •  Sword •  Longsword •  Scimitar •  Spear •  Warhammer •  Battleaxe •  Two-hander •  Halberd •  Hasta •  Pickaxe

Ranged weapons/ammo

 Crossbow •  Bolts •  Arrows •  Brutal arrows •  Throwing axe •  Throwing knife •  Javelin •  Darts •  Cannonball

Armour

 Medium helm •  Full helm (t) (g) •  Chainbody •  Platebody (t) (g) •  Gloves •  Square shield •  Kiteshield (t) (g) •  Platelegs (t) (g) •  Plateskirt (t) (g) •  Boots •  Defender

Other

 Bar •  Nails •  Arrowtips •  Javelin heads •  Dart tips •  Unfinished bolts •  Broken axe •  Broken pickaxe