World of Warcraft: Dragonflight - The Loop
Play Sound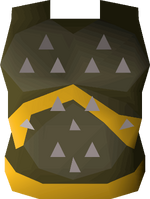 Studded body (g) is a low-level ranged armour. They are obtained from the 1st level of Treasure Trails, or from trading with other players. They require 20 Ranged and Defence to wear. A Studded body (g) has identical bonuses to a Studded body.
Studded body (g) cannot be made using the Crafting skill. It is impossible for players to trim armour and any player claiming to do so is a scammer.
Studded body (g) along with Studded chaps (g) can be stored in a Treasure chest in the Costume room of a Player-owned house under the name of Gold-trimmed studded leather.
Headgear

 Void (+0) •  Cowl (+1) •  Coif (+2) •  Slayer helmet (i) (+3) •  Snakeskin (+4) •  Spined (+6) •  Archer helm (+6) •  Ranger hat (+6) •  Blessed (+7) •  Karil's (+7) •  Robin hood hat (+8) •  Third-age (+9) •  Armadyl (+10) •  Morrigan's (+13)

Bodies

 Void (+0) •  Leather (+2) •  Hardleather (+8) •  Studded(t)(g) (+8) •  Frog-leather (+10) •  Snakeskin (+12) •  Rangers' (+15) •  Spined (+15) •  Green d'hide(t)(g) (+15) •  Blue d'hide(t)(g) (+20) •  Red d'hide(t)(g) (+25) •  Black d'hide(t)(g) (+30) •  Blessed (+30) •  Third-age (+30) •  Karil's (+30) •  Armadyl (+33) •  Morrigan's (+36)

Legwear

 Void (+0) •  Frog-leather (+2) •  Leather (+4) •  Snakeskin (+6) •  Studded(t)(g) (+6) •  Green d'hide(t)(g) (+8) •  Spined (+8) •  Yak-hide (+10) •  Blue d'hide(t)(g) (+11) •  Red d'hide(t)(g) (+14) •  Penance skirt (+15) •  Black d'hide(t)(g) (+17) •  Blessed (+17) •  Third-age (+17) •  Karil's (+17) •  Armadyl (+20) •  Morrigan's (+23)

Vambraces

 Void (+0) •  Spined (+0) •  Hardleather (+1) •  Bronze (+2) •  Iron (+3) •  Steel (+4) •  Leather(spiked) (+4) •  Black (+5) •  Mithril (+6) •  Snakeskin (+6) •  Combat bracelet (+7) •  Regen bracelet (+7) •  Adamant (+7) •  Rune (+8) •  Green d'hide(spiked) (+8) •  Dragon (+9) •  Blue d'hide(spiked) (+9) •  Red d'hide(spiked) (+10) •  Black d'hide(spiked) (+11) •  Blessed (+11) •  Third-age (+11) •  Ranger (+11) •  Barrows (+12)

Boots

 Spined (+0) •  Frog-leather (+2) •  Snakeskin (+3) •  Blessed (+7) •  Ranger (+8) •  Pegasian (+12)

Capes

 Ranging (+0) • Fire cape (+1) • Infernal cape (+1) •  Ava's attractor (+2) •  Ava's accumulator (+4) •  Ava's assembler (+8)

Amulets

 Accuracy (+4) •  Power (+6) •  Glory (+10) •  Fury (+10) •  Anguish (+15)

Rings

 Archers (+4) •  Archers (i) (+8)

Shields

 Hard leather (+2) •  Snakeskin (+3) •  Green d'hide (+4) •  Book of balance (+4)•  Blue d'hide (+5) •  Red d'hide (+6) •  Black d'hide (+7) •  Unholy book (+8) •  Book of law (+10) •  Odium ward (+12) •  Dragonfire ward (+15) •  Twisted buckler (+18)