World of Warcraft: Dragonflight - The Loop
Play Sound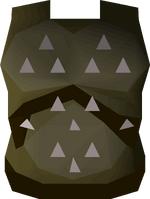 The Studded body (t) is a low-level ranged armour that requires 20 Defence and Ranged to wear. These items are originally obtained from the 1st level of Treasure Trails. They have the same stats as a regular Studded body, though due to their rarity these are rarely used for training.
The studded body (t) cannot be made using the Crafting skill. It is impossible for players to trim armour and any player claiming to do so is a scammer.
A Studded body (t) along with Studded chaps (t) can be stored in a Treasure chest in the Costume room of a Player-owned house under the name of Fur-trimmed leather armour.
Headgear

 Void (+0) •  Cowl (+1) •  Coif (+2) •  Slayer helmet (i) (+3) •  Snakeskin (+4) •  Spined (+6) •  Archer helm (+6) •  Ranger hat (+6) •  Blessed (+7) •  Karil's (+7) •  Robin hood hat (+8) •  Third-age (+9) •  Armadyl (+10) •  Morrigan's (+13)

Bodies

 Void (+0) •  Leather (+2) •  Hardleather (+8) •  Studded(t)(g) (+8) •  Frog-leather (+10) •  Snakeskin (+12) •  Rangers' (+15) •  Spined (+15) •  Green d'hide(t)(g) (+15) •  Blue d'hide(t)(g) (+20) •  Red d'hide(t)(g) (+25) •  Black d'hide(t)(g) (+30) •  Blessed (+30) •  Third-age (+30) •  Karil's (+30) •  Armadyl (+33) •  Morrigan's (+36)

Legwear

 Void (+0) •  Frog-leather (+2) •  Leather (+4) •  Snakeskin (+6) •  Studded(t)(g) (+6) •  Green d'hide(t)(g) (+8) •  Spined (+8) •  Yak-hide (+10) •  Blue d'hide(t)(g) (+11) •  Red d'hide(t)(g) (+14) •  Penance skirt (+15) •  Black d'hide(t)(g) (+17) •  Blessed (+17) •  Third-age (+17) •  Karil's (+17) •  Armadyl (+20) •  Morrigan's (+23)

Vambraces

 Void (+0) •  Spined (+0) •  Hardleather (+1) •  Bronze (+2) •  Iron (+3) •  Steel (+4) •  Leather(spiked) (+4) •  Black (+5) •  Mithril (+6) •  Snakeskin (+6) •  Combat bracelet (+7) •  Regen bracelet (+7) •  Adamant (+7) •  Rune (+8) •  Green d'hide(spiked) (+8) •  Dragon (+9) •  Blue d'hide(spiked) (+9) •  Red d'hide(spiked) (+10) •  Black d'hide(spiked) (+11) •  Blessed (+11) •  Third-age (+11) •  Ranger (+11) •  Barrows (+12)

Boots

 Spined (+0) •  Frog-leather (+2) •  Snakeskin (+3) •  Blessed (+7) •  Ranger (+8) •  Pegasian (+12)

Capes

 Ranging (+0) • Fire cape (+1) • Infernal cape (+1) •  Ava's attractor (+2) •  Ava's accumulator (+4) •  Ava's assembler (+8)

Amulets

 Accuracy (+4) •  Power (+6) •  Glory (+10) •  Fury (+10) •  Anguish (+15)

Rings

 Archers (+4) •  Archers (i) (+8)

Shields

 Hard leather (+2) •  Snakeskin (+3) •  Green d'hide (+4) •  Book of balance (+4)•  Blue d'hide (+5) •  Red d'hide (+6) •  Black d'hide (+7) •  Unholy book (+8) •  Book of law (+10) •  Odium ward (+12) •  Dragonfire ward (+15) •  Twisted buckler (+18)