For a list of all items and upgrades within the Construction skill, see Construction/All milestones.
There are 7 different hotspots available: A Study in a player-owned house is a room where the player can create teleport or enchant tablets
Building a study requires level 40 Construction and 50,000 coins.
Globe
Lectern
Crystal ball
Telescope
Wall chart
Bookcase
Exit
Globe
Lectern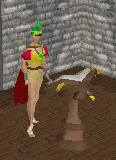 Used to make teleport tablets.
Crystal ball
Used to change the element of basic, battle, and mystic staffs.
Telescope
Wall chart
Bookcase

 Garden •

 Parlour •

 Kitchen •

 Dining Room •

 Workshop •

 Bedroom •

 Skill Hall •

 Games room •

 Combat Room •

 Quest Hall •

 Menagerie •

 Study •

 Costume Room •

 Chapel •

 Portal Chamber •

 Formal Garden •

 Throne Room •

 Oubliette •

 Superior Garden •

 Dungeon •

 Treasure Room •

 Achievement Gallery
Globes

 Globe •  Ornamental globe •  Lunar globe •  Celestial globe •  Armillary sphere •  Small orrery •  Large orrery

Lecterns

 Oak •  Oak eagle •  Oak demon •  Teak eagle •  Teak demon •  Mahogany eagle •  Mahogany demon

Crystal balls

Telescopes

Wall charts

Bookcases