This article is about the potion of the same name. For other antifire potions, see
Dragonfire
.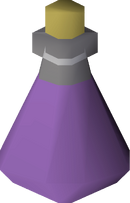 A super antifire potion is a potion made with Herblore that provides complete immunity to a dragon's breath for 3 minutes. However, the potion's effects will not work on Galvek's attacks, nor will it work on the King Black Dragon's poisonous/shocking/freezing dragonbreath. It will also block Vorkath's attacks only partially. It may only be used after starting Dragon Slayer.
It can be made by a player with 92 Herblore by adding crushed superior dragon bones to an antifire potion, which grants 130 Herblore experience. With 98 Herblore, the super antifire potion can be upgraded to an extended super antifire with lava scale shards.
To be able to create super antifire potions, the process must first be learned by speaking to Primula, who can be found on the 1st2nd floor[?] inside the Myths' Guild, which requires completion of Dragon Slayer II to enter.
Price per dose
| Item | Price per dose |
| --- | --- |
| Super antifire potion(1) | 2,973 |
| Super antifire potion(2) | 3,119 |
| Super antifire potion(3) | 3,067 |
| Super antifire potion(4) | 2,906 |
Trivia
Upon release, the potion's effects only lasted for two minutes. This was extended to three in an update three weeks later.
Unfinished potions

 Coconut milk •  Guam •  Rogue's purse •  Marrentill •  Tarromin •  Ash •  Harralander •  Guthix balance •  Ranarr •  Toadflax •  Magic essence •  Irit •  Ardrigal •  Snakeweed •  Avantoe •  Kwuarm •  Snapdragon •  Cadantine •  Cadantine blood •  Lantadyme •  Antipoison+ •  Dwarf weed •  Weapon poison+ •  Torstol •  Antipoison++ •  Weapon poison++ •  Rejuvenation

Combat potions

 Attack (mix) •  Strength (mix) •  Defence (mix) •  Magic (mix) •  Ranging (mix) •  Combat (mix) •  Super attack (mix) •  Super strength (mix) •  Magic essence (mix) •  Super defence (mix) •  Super combat •  Bastion •  Battlemage •  Antifire (mix) •  Extended antifire (mix) •  Zamorak brew (mix) •  Saradomin brew •  Super antifire (mix) •  Extended super antifire (mix) •  Super ranging •  Super magic •  Overload •  Absorption

Recovery potions

 Stat restore (mix) •  Energy (mix) •  Prayer (mix) •  Super energy (mix) •  Super restore (mix) •  Sanfew serum •  Stamina (mix)

Cures and antipoisons

 Relicym's balm (mix) •  Antipoison (mix) •  Superantipoison (mix) •  Antidote+ (mix) •  Antidote++ •  Sanfew serum •  Anti-venom •  Anti-venom+

Skill potions

Weapon poisons

Others

 Potion •  Blamish oil •  Blood potion (unf) •  Bravery •  Strange •  Magic ogre(incorrect) (correct) (unf) •  Cadava •  Compost •  Growth •  Guthix balance •  Guthix rest •  Murky •  Potion (unf) •  Sealegs •  Shrink-me-quick •  Troll •  Olive oil •  Sacred oil •  Serum 207 •  Serum 208 •  Spectral •  Rejuvenation •  Revitalisation •  Voice