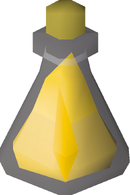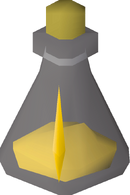 A super def. mix is a Barbarian potion that boosts a players Defence level by 5-19 levels, as well as healing 2 hitpoints per dose. It is made by using caviar on a super defence (2). It requires a Herblore level of 71 to make and gives 50 experience. This mix can only be created after completing the Herblore part of Barbarian training with Otto Godblessed. When drinking a sip of the potion it says, "You drink the lumpy potion." If the player drinks all doses or empties the potion, it will become a regular empty vial.
Creating
Super defence mix(2)
Value
-
50 XP
59
118
-
Requirements
Herblore level
71
Learn the barbarian way of mixing potions.
Materials
Super defence (2)
1
Caviar
1
Dropping monsters
Ferocious barbarian spirits may drop this in 1 or 2 doses.
Unfinished potions

 Coconut milk •  Guam •  Rogue's purse •  Marrentill •  Tarromin •  Ash •  Harralander •  Guthix balance •  Ranarr •  Toadflax •  Magic essence •  Irit •  Ardrigal •  Snakeweed •  Avantoe •  Kwuarm •  Snapdragon •  Cadantine •  Cadantine blood •  Lantadyme •  Antipoison+ •  Dwarf weed •  Weapon poison+ •  Torstol •  Antipoison++ •  Weapon poison++ •  Rejuvenation

Combat potions

 Attack (mix) •  Strength (mix) •  Defence (mix) •  Magic (mix) •  Ranging (mix) •  Combat (mix) •  Super attack (mix) •  Super strength (mix) •  Magic essence (mix) •  Super defence (mix) •  Super combat •  Bastion •  Battlemage •  Antifire (mix) •  Extended antifire (mix) •  Zamorak brew (mix) •  Saradomin brew •  Super antifire (mix) •  Extended super antifire (mix) •  Super ranging •  Super magic •  Overload •  Absorption

Recovery potions

 Stat restore (mix) •  Energy (mix) •  Prayer (mix) •  Super energy (mix) •  Super restore (mix) •  Sanfew serum •  Stamina (mix)

Cures and antipoisons

 Relicym's balm (mix) •  Antipoison (mix) •  Superantipoison (mix) •  Antidote+ (mix) •  Antidote++ •  Sanfew serum •  Anti-venom •  Anti-venom+

Skill potions

Weapon poisons

Others

 Potion •  Blamish oil •  Blood potion (unf) •  Bravery •  Strange •  Magic ogre(incorrect) (correct) (unf) •  Cadava •  Compost •  Growth •  Guthix balance •  Guthix rest •  Murky •  Potion (unf) •  Sealegs •  Shrink-me-quick •  Troll •  Olive oil •  Sacred oil •  Serum 207 •  Serum 208 •  Spectral •  Rejuvenation •  Revitalisation •  Voice