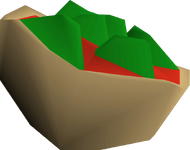 A super kebab is a kebab that has had red hot sauce added to make it spicy. They are sold by Ali the Kebab seller. The sole advantage of the super kebab appears to be that, unlike the normal kebab, the super kebab may affect Runecrafting, Agility, Slayer, and Firemaking. It may also simply do nothing.
To make a super kebab, the player must use red hot sauce (obtained from Ali the Kebab seller) on either a normal kebab or ugthanki kebab.
NPCs

Ali Morrisane • Ali the Camel Man • Ali the Camel • Ali the Operator • Ali the Hag • Ali the Kebab seller • Ali the Mayor • Street urchin • Traitorous Ali • Ali the Barman • Ali the Snake Charmer • Bandit • Desert snake • Drunken Ali • Menaphite Thug • Villager

Enemies

Menaphite Leader • Bandit Leader • Tough Guy • Bandit champion

Items

 Keys •  Jewels •  Note (numbers) •  Note (Fibonacci) •  Kharidian headpiece •  Fake beard •  Desert disguise •  Receipt •  Hag's poison •  Red hot sauce •  Ugthanki dung •  Snake charm •  Snake basket •  Oak blackjack •  Willow blackjack •  Snake basket full •  Super kebab •  Karidian disguise

Locations
Miscellaneous
Community content is available under
CC-BY-SA
unless otherwise noted.