For a list of all items and upgrades within the Construction skill, see Construction/All milestones.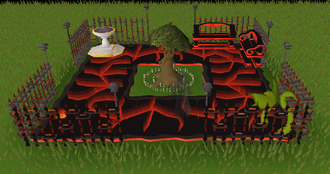 A superior garden is a room in Player-owned house that can be built at level 65 Construction with 75,000 coins.
For planting, the player needs to be holding a watering can (with water) in the player's inventory.
There are six different hotspots available:
Natural teleport
Topiary
Pool
Theme
Fence
Seating (x2)
Players can have two or more superior gardens in their house, and when using the Spirit tree or Fairy rings, the player will be teleported to the first garden they have built.
Natural teleport
The natural teleport space allows players to plant a fairy ring (code diq) or spirit tree, allowing quick transportation, provided they have completed the quests required to use them.
Note: In contrast to other hotspots, the natural teleport is not built with a saw, so the crystal saw boost does not apply.
Item
Image
Level
Materials
Experience
Spirit tree
75 (plus 83 Farming)
1 Spirit sapling, 1 watering can
350 Con

350 Farm

Obelisk
80
4 ancient crystals, 4 marble blocks
3,000
Fairy ring
85 (plus full completion of Fairytale II - Cure a Queen)
10 mushrooms, 1 fairy enchantment, 1 watering can(8)
535
Spirit tree & fairy ring
95 (plus 83 Farming)
1 Spirit sapling, 10 mushrooms, 1 fairy enchantment, 1 watering can (1-8)
1,170
Topiaries
Players can have the topiaries sculpted into various boss heads with a pair of secateurs or magic secateurs, provided they have killed the boss at least once. The following bosses can be displayed:
Pool
The pool space will restore certain stats, depending on the type of pool built.
Pools are constructed in upgrades: before a higher level pool can be built, you must first build the one before it.
Note: You can use the +3 Crystal Saw boost for an upgrade, and use a tea made from your kitchen for a further +3, or a spicy stew +5 for a possible maximum of +8.
| Item | Image | Level | Materials | Experience | Restores... |
| --- | --- | --- | --- | --- | --- |
| Restoration pool | | 65 | 5 limestone bricks, 5 buckets of water, 1,000 soul runes, 1,000 body runes | 706 | Special attack energy |
| Revitalisation pool | | 70 | 10 stamina potion(4) | 850 | Previous + run energy |
| Rejuvenation pool | | 80 | 10 prayer potion(4) | 900 | Previous + prayer points |
| Fancy rejuvenation pool | | 85 | 10 super restore(4), 2 marble blocks | 1,950 | Previous + reduced stats |
| Ornate rejuvenation pool | | 90 | 10 anti-venom(4), 5 gold leaves, 1,000 blood runes | 3,107 | Previous + hitpoints, also cures poison and venom |
Theme
| Item | Image | Level | Materials | Experience |
| --- | --- | --- | --- | --- |
| Zen theme | | 65 | 6 buckets of sand, 1 pink dye, 1 bagged nice tree, 1 watering can | 297 |
| Otherworldly theme | | 75 | 8 supercompost, 1 blue dye, 4 mushrooms, 1 magic secateurs, 1 watering can | 316 |
| Volcanic theme | | 85 | 2 Granite (5 kg), 6 onyx, 1,000 fire runes, 2,000 lava runes, 1 watering can | 4,464 |
Fencing
Seating

 Garden •

 Parlour •

 Kitchen •

 Dining Room •

 Workshop •

 Bedroom •

 Skill Hall •

 Games room •

 Combat Room •

 Quest Hall •

 Menagerie •

 Study •

 Costume Room •

 Chapel •

 Portal Chamber •

 Formal Garden •

 Throne Room •

 Oubliette •

 Superior Garden •

 Dungeon •

 Treasure Room •

 Achievement Gallery