m

Line 2:
Line 2:
 

{{otheruses|the teleport tablet|the teleport spell|Teleport to House}}

 

{{otheruses|the teleport tablet|the teleport spell|Teleport to House}}

 

{{Infobox Item

 

{{Infobox Item

 
+

|exchange = gemw

 

|name = Teleport to house

 

|name = Teleport to house

 

|image = [[File:Teleport to house.png]]

 

|image = [[File:Teleport to house.png]]
---
Revision as of 03:17, 2 September 2015
This article is about the teleport tablet. For the teleport spell, see
Teleport to House
.
The Teleport to house tablet is an item that can be used by any player to teleport to their player-owned house. Players can create this item on a Mahogany eagle lectern (requiring 67 Construction) as long as they have 1 Law rune, 1 Air rune, 1 Earth rune, and 1 soft clay and at least level 40 Magic. Combination runes CAN be used, allowing for one space to be freed by using dust runes. You gain 30 Magic experience for each tablet you create, each tablet takes 4 seconds to make.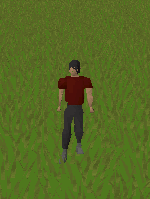 This tablet can be made regardless of the player's current spellbook. As with all tablets (except for the Ardougne teleport tablet), the user does not need to have the relevant Magic level to use it. All tablets, including this one are an efficient method of earning money and magic experience. They are very popular with the community, as they take up 1 inventory space, making a good 1-click teleport and great for tablet making/construction training. A good strategy in making tablets is to use a servant to obtain the soft clay from the bank. Note that your servant will charge a certain fee for this.
Redirected house tablets
Those who participate in the Nightmare Zone minigame, can buy multiple amounts of Scroll of redirection, costing 775 reward points per scroll. Each scroll can redirect a house tablet to one of the locations below, providing you have the required Construction level to move there.
↑ No construction requirement is needed for the Trollheim teleport tablet. However Eadgar's Ruse quest is still a requirement in order to be used.
Teleports

| | |
| --- | --- |
| Normal |  Varrock •  Lumbridge •  Falador •  Camelot •  Ardougne •  Watchtower •  Player-owned house |
| Redirected |  Rimmington •  Taverley •  Pollnivneach •  Great Kourend •  Rellekka •  Brimhaven •  Yanille •  Trollheim |
| Ancient Magicks |  Paddewwa •  Senntisten •  Annakarl •  Carrallangar •  Dareeyak •  Ghorrock •  Kharyrll •  Lassar |
| Arceuus |  Lumbridge Graveyard •  Draynor Manor •  Mind Altar •  Salve Graveyard •  Fenkenstrain's Castle •  West Ardougne •  Harmony Island •  Forgotten Cemetery •  Barrows •  Ape Atoll |
| Other |  Volcanic Mine •  Wise old man's •  Deadman •  Icy basalt •  Stony basalt |

Enchant

 Enchant sapphire or opal •  Enchant emerald or jade •  Enchant ruby or topaz •  Enchant diamond •  Enchant dragonstone •  Enchant onyx •  Bones to bananas •  Bones to peaches •  Telekinetic grab
Community content is available under
CC-BY-SA
unless otherwise noted.