REDIRECT Template:Quest
Details
Start point
Speak to Tomas Lawry outside the Piscarilius House bank.
Official difficulty
Novice
Description
None
Length
Short
Requirements

20  Thieving
Completion of the following quests:

Items required
Stew

One or Two Stamina potions Xeric's talisman (Xeric's glade teleport)

Enemies to defeat
None
Walkthrough
Go back to Devan Rutter, then enter the tent north of him and speak to the Queen of Thieves.
Go to the house directly east of the Hosidius House's general store, Little Shop of Horace. (Northernmost house in the 4 house block - northeast of Watson's house)
Picklock the chest to find a letter.
Return to Tomas Lawry
Return to Lady Shauna Piscarilius (A.K.A. The Queen of Thieves).
Congratulations, quest complete!
Rewards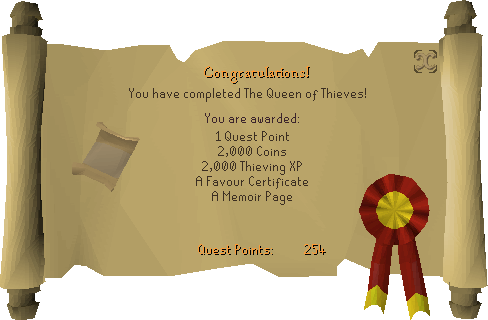 Characters

Tomas Lawry • Poor looking man • Poor looking woman • Robert O'Reilly • Devan Rutter • Conrad King • The Queen of Thieves • Councillor Hughes

Items
Rewards
Locations
Related

Quick Guide