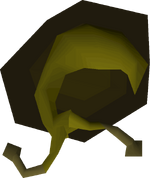 Thin snail meat is a food item made by cooking a thin snail on a fire or a range. Eating it heals 5 to 7 hitpoints in one bite.
Its uncooked counterpart is obtained by killing a snail in Morytania. It might be useful if you are low on hitpoints to kill a snail and cook it for emergency healing. Cooking one is also a task in the easy set of the Morytania Diary.
Community content is available under
CC-BY-SA
unless otherwise noted.