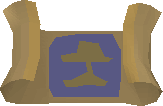 The treasure map is a quest item made during the Ghosts Ahoy quest by combining the three map scraps found during the quest.
Players can read the map to view Dragontooth Island, where a red cross shows the starting point on a north-western peninsula. The instructions read:
6 - South
8 - East
2 - North
4 - East
22 - South
To obtain this item, players must have a spade in their inventory. Start one square west of the statue near the landing point on the island, then follow the instructions on the map. The numbers show how many squares to move from the starting position, i.e. 6 squares south, then 8 east, and so on.
When at the final position, players should dig with a spade to find the book of haricanto.
The map also has a right-click Follow option, which can be used to move several paces at once. The player must choose which direction to walk in (N, S, E, W), and then the number of paces (1, 2, 4, 10).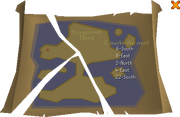 NPCs

Velorina • Necrovarus Ghost disciple • Ghost guard • Ghost innkeeper • Metarialus • Ak-Haranu • Robin • Old crone • Old man • Gravingas • Ghost villager • Haricanto • Pirate captain

Enemies

Items

 Ecto-token •  Book of haricanto •  Translation manual •  Ghostspeak amulet (enchanted) •  Model ship •  Chest key •  Signed oak bow •  Bonemeal •  Bucket of slime •  Bedsheet •  Bedsheet (ectoplasm) •  Petition form •  Bone key •  Mystical robes

Tea

 Nettles •  Nettle-water •  Nettle tea •  Nettle tea (milky) •  Cup of tea (nettle) •  Cup of tea (milky nettle) •  Porcelain cup •  Cup of tea (porcelain) •  Cup of tea (milky porcelain)

Treasure map

 Scrap 1 •  Scrap 2 •  Scrap 3 •  Treasure map

Unobtainable

 Puddle of slime

Rewards

 Ectophial

Locations

Music

Related
Community content is available under
CC-BY-SA
unless otherwise noted.