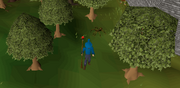 Trees are a part of the natural scenery of RuneScape. Trees can be found all across the realm of Gielinor, but especially in forested kingdoms, such as in the tropical jungles of Karamja and the temperate forests of Asgarnia and Misthalin.
Functions of trees
Trees have many functions in RuneScape. Players can interact with most trees, although some are non-interactive and only exist as scenery. Trees play a role in quests, skills, and transportation.
Woodcutting, Firemaking, and Fletching
Players can use an axe to cut trees using the Woodcutting skill to gain logs, and different trees yield different types of logs when cut.
Players can then burn these logs with the Firemaking skill to make a fire, usually by using a tinderbox on them. Members can also use the Fletching skill to shape logs into items used for Ranged by using a knife on them.
Farming
Members can also grow certain types of trees from seeds using the Farming skill. Players can grow trees by planting tree seeds, fruit tree seeds, or spirit tree seeds in soil-filled plant pots, watering the seeds with a watering can, waiting for a short germination period, then planting them with a spade in tree patches. The only trees which can be grown using Farming are the types of wooden trees which can be cut using the Woodcutting skill, fruit trees, which produce fruit, and Spirit Trees, which can be used for transportation.
Construction
Bagged trees can be planted by members in tree hotspots in gardens in player-owned houses using the Construction skill. This also requires a certain Farming level and a watering can. Bagged trees can be bought from the gardener in the park in north-east Falador. These trees cannot be cut.
There are also four types of trees which yield logs which can be made into planks at the sawmill. These planks can then be used to make furniture using Construction.
Quests
Specific trees occasionally play roles in quests, such as the Dramen Tree, which is the focus of the Lost City quest or the swaying tree in Fremennik trials. The Grand Tree in the Tree Gnome Stronghold has a role in some quests involving gnomes, including The Grand Tree quest and the Monkey Madness I quest.
Transportation
The Tree Gnome Village quest also rewards players with the ability to use Spirit trees, sentient ancient trees which are used by gnomes and friends of their race to travel between certain locations.
Canoe trees can also be cut down using a hatchet and the Woodcutting skill. Once a canoe tree has been felled, players can right-click on it to make one of four types of canoes, which can be used to travel up and down the River Lum, even into the Wilderness.