This article is about the tool used in
The Dig Site
quest and the Varrock Museum activity. For the tool used in Farming, see
Gardening trowel
.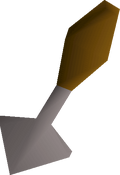 The trowel is an item used in the Digsite to dig level 1 and 3 sites. One is also needed in The Dig Site quest to find the Ancient talisman, as well as Another Slice of H.A.M. to dig up ancient goblin artefacts. They can be obtained after clearing the first exam of the quest. Players can get another from examiners if they lose theirs. After the quest, players can also use a trowel to clean Uncleaned finds in the Varrock Museum activity.
Items you can obtain digging with a trowel are as follows:
NPCs

Examiner • Researcher • Curator Haig Halen • Student • Digsite workman • Nick • Nisha • Panning guide • Archaeological expert • Doug Deeping

Items

 Unstamped letter •  Sealed letter •  Teddy •  Animal skull •  Specimen brush •  Panning tray •  Rock pick •  Special cup •  Trowel •  Specimen jar •  Ancient talisman •  Invitation letter •  Arcenia root •  Book on chemicals •  Chest key •  Unidentified liquid •  Ground charcoal •  Ammonium nitrate •  Nitroglycerin •  Chemical powder •  Mixed chemicals •  Chemical compound •  Stone tablet

Certificates

Extraneous digsite items

 Nuggets •  Belt buckle •  Broken armour •  Broken arrow •  Damaged armour •  Broken glass •  Broken staff •  Buttons •  Ceramic remains •  Cracked sample •  Old boot •  Old tooth •  Rusty sword •  Vase

Locations

Music

Related
Community content is available under
CC-BY-SA
unless otherwise noted.