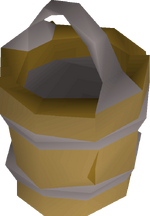 Ultracompost is a more potent version of supercompost and is used in conjunction with the Farming skill. Ultracompost reduces the chance of a players crops becoming diseased (1:10 ratio) whilst growing, as well as increasing the number of crops that will be received by the player upon harvest, even if those crops are protected. The minimum number of herbs increases from five to six (when compared to supercompost), and in general, the yield will be higher, around 20% higher on average. The combined effects increase expected yield per patch to about 8.6 herbs.
To make ultracompost, a player must use two volcanic ashes on a bucket of supercompost. Alternatively, 25 volcanic ashes can be used directly on a full compost bin containing supercompost in order to upgrade it to ultracompost.
Trivia
Ultracompost was also referred to as ubercompost during development.[1]
References
Misc.

 Bucket •  Water •  Milk •  Apple mush •  Chocolatey milk •  Compost •  Supercompost •  Ultracompost •  Sand •  Sap •  Slime •  Wax •  Bailing •  Sandworms •  Wester sand

Quest items

 Weird gloop •  Full bucket •  Dwarf brew •  Hangover cure •  Rubble •  Magic glue •  Enchanted milk •  Milky mixture •  Ugthanki dung •  Unsanitary swill •  Murky water •  Blessed water •  Water (Rum Deal) •  Empty •  1/5ths full •  2/5ths full •  3/5ths full •  4/5ths full •  Full (Fremennik Trials) •  Frozen •  Bucket (Meiyerditch) •  Water (Meiyerditch)

 Rake •

 Secateurs (Magic) •

 Gardening trowel •

 Seed dibber •

 Watering can (Gricoller's) •

 Compost •

 Supercompost •

 Ultracompost •

 Spade •

 Empty plant pot •

 Filled plant pot •

 Empty sack •

 Basket •

 Plant cure
Community content is available under
CC-BY-SA
unless otherwise noted.