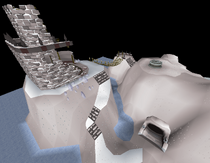 Ungael is an island located in northernmost region of the Lunar Sea. An abandoned dragonkin fortress and laboratory can be found here.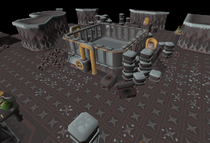 Sometime during the Dragonkin Conflicts, it was used as the base of operations for Zorgoth's experiments, which took place in the laboratory underneath the island. Here, he brought spores and fungi from Lithkren to Ungael to use for his experiments. It is here in which Zorgoth created Vorkath, and left it there in order to guard the route to the laboratory from invading humans.
Vorkath remains on the island after over 2,000 years, and is fought during Dragon Slayer II in order to retrieve a dragon key piece hidden by Robert the Strong in the laboratory. After the quest, Vorkath can be fought continuously as a boss.
NPCs

Alec Kincade • Dallas Jones • Bob • Neite • Sphinx • Not Bob • Dragonkin • Veos • Imerominia • Amelia • Johnathan • Sarah • Torfinn • Zorgoth • Ava • Thorvald • Koschei • Fremennik warrior • Fremennik drummer

Fourth Age heroes

Aivas • Camorra • Robert the Strong • Tristan • Odysseus

Leaders

King Lathas • King Roald • Sir Amik Varze • Brundt the Chieftain

Team

Achietties • Brundt the Chieftain • Jardric • Sir Tiffy Cashien • Oneiromancer • Wise Old Man

Monsters

Items

 Old notes •  Map piece •  Aivas' diary •  Dream potion •  Malumac's journal •  Varrock census records •  Inert locator orb •  Locator orb •  Water container •  Revitalisation potion

Busts

Keys

Locations

Ancient Cavern • Crandor and Karamja Dungeon • Dream World • House on the Hill • Karamjan Temple • Lithkren • Lithkren Vault • Myths' Guild • Shayzien Crypts • Ungael

Music

Relics • Lucid Dream • Lucid Nightmare • On Thin Ice • The Maze • The Walking Dead • The Forsaken • Scape Main • Oncoming Foe • The Dragon Slayer • Mythical

Related
Community content is available under
CC-BY-SA
unless otherwise noted.