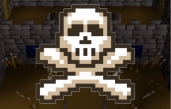 Last Man Standing: F2P Beta
The Last Man Standing beta is now available to free-to-play Old School players on world 321!
Image created by winnetou07.
There are some small differences between the members and free-to-play versions of Last Man Standing. Competitive mode is not available in free-to-play, and some of the high end equipment is not available for use.
You are still able to use various members items in the free-to-play version of the minigame, just not the top-tier special attack weapons.
If you want to give the free-to-play version of the minigame a go, hop over to world 321 and give it a whirl!
In other news
Broken versions of untradeable items are now repaired by talking to Perdu or using a special armour stand.
Worlds 376 and 321 are no longer Deadman seasonal worlds, with world 321 becoming the F2P Last Man Standing beta world and world 376 being reverted to a standard Old School world.
Bugfixes
Broken versions of untradeable items now have higher values so that they will no longer be deleted from the ground if more valuable items are in the area.
Corrected the herbs shown on the Temple Trekking reward interface.
Mods Archie, Ash, Ed, Ghost, Ian, Jed, John C, Kieren, Mat K, Maz, Ronan, Roq, Weath, West
The Old School Team
Community content is available under
CC-BY-SA
unless otherwise noted.