Welcome!
Hello Funds, and welcome to the
Old School RuneScape Wiki
!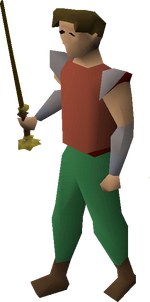 We are glad you took interest in our wiki. If you have any questions, doubts or having trouble, you can ask them in
my talk page
, any editor's talk page or you can take a look at the
help page
. We will happily answer them.
Remember to sign your name on talk pages by using four tildes (~~~~) or use the "sign" button (

) above the edit box. This will automatically produce your name and the date. Signing your comments is important, as it lets other editors know who has posted which comments.
Again, welcome!
User:Jr Mime/Signature
20:05, March 21, 2014 (UTC)
Re:Venenatis
I have no idea how any of the OSRS exclusive bosses work, except Cerberus and Zulrah. --

SpineTalk

00:56, September 10, 2015 (UTC)
Venenatis
Do you want rollback rights to prevent filter issues? Also help us with vandals, pls. Sometimes I see your edits right past vandals when I'm scouting RecentChanges. Mage Hybrid talk 01:10, September 10, 2015 (UTC)
Ok done. Just help us around when you can.

Mage Hybrid

talk

01:14, September 10, 2015 (UTC)
Slayer
http://services.runescape.com/m=forum/forums.ws?380,381,218,65676436,goto,3
--

SpineTalk

19:00, September 10, 2015 (UTC)
Buthrope
BUTHROPE http://oldschoolrunescape.wikia.com/index.php?title=Dragon_Slayer_II%2FQuick_guide&diff=5516861&oldid=5516853 ——Shaun Dreclintalk 22:24, January 9, 2018 (UTC)
:Wowee:
https://i.imgur.com/77dSn4b.png
556 kc, after being EXACTLY 400 kc since my last unsired :Wowee: --

SpineTalk

05:48, April 28, 2018 (UTC)
Community content is available under
CC-BY-SA
unless otherwise noted.