Welcome!

Hello new user, and welcome to the
Old School RuneScape Wiki
!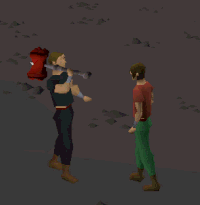 We are glad you took interest in our wiki. If you have any questions, doubts or having trouble, you can ask them in
my talk page
, any editor's talk page or you can take a look at the
help page
. We will happily answer them.
Remember to sign your name on talk pages by using four tildes (~~~~) or use the "sign" button (

) above the edit box. This will automatically produce your name and the date. Signing your comments is important, as it lets other editors know who has posted which comments.
Again, welcome! --

Spine
Talk

02:00, March 29, 2016 (UTC)
You now have
rollback rights. You can undo a bad edit in one click.
--

SpineTalk

02:00, March 29, 2016 (UTC)
Very hard for a player to find partner for heroes. Recommend leaving the change I psoted because it is impossible for those players to scam as they sell the specific item after helping for a price in a single trade, thus no trust is required.
Leaving Wikia
Hey, this message is to let you know about this thread about us leaving Wikia/FANDOM in favour of our new site, https://oldschool.runescape.wiki, just in case you missed it. This is also a good opportunity to have your voice heard, give any feedback for the new site and propose anything you'd like to see going forward. --

SpineTalk

03:15, September 28, 2018 (UTC)
Community content is available under
CC-BY-SA
unless otherwise noted.