Welcome!
Hello new user, and welcome to the
Old School RuneScape Wiki
!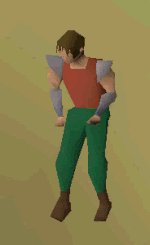 We are glad you took interest in our wiki. If you have any questions, doubts or having trouble, you can ask them in
my talk page
, any editor's talk page or you can take a look at the
help page
. We will happily answer them.
Remember to sign your name on talk pages by using four tildes (~~~~) or use the "sign" button (

) above the edit box. This will automatically produce your name and the date. Signing your comments is important, as it lets other editors know who has posted which comments.
Again, welcome! --
Spine
Talk
10:34, August 17, 2017 (UTC)
Admin
You've been doing some good shit lately, so I've given you admin. Use responsibly --
SpineTalk
00:58, April 16, 2018 (UTC)
Nice --Shockstorm (talk) 01:15, April 16, 2018 (UTC)
lol, what have I been doing for the past few hours.... The message alert system wasnt noticable...
Iraqiboy90 (talk) 12:47, January 5, 2019 (UTC)
Vandalism bots are running havoc on the wiki, redirecting everything to Nieve!
how is your name blue? can I pick a color?
IRL INFO ??
Should you have personal information about people on your page?? :thinking: --JLS2020 (talk) 02:23, June 6, 2020 (UTC)