Welcome!
Hello Vaythe, and welcome to the
Old School RuneScape Wiki
!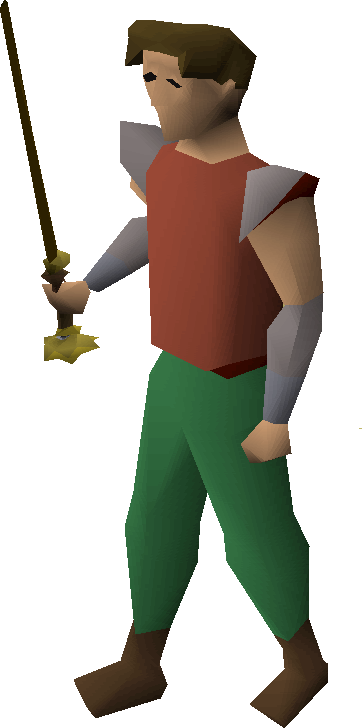 We are glad you took interest in our wiki. If you have any questions, doubts or having trouble, you can ask them in
my talk page
, any editor's talk page or you can take a look at the
help page
. We will happily answer them.
Remember to sign your name on talk pages by using four tildes (~~~~) or use the "sign" button (

) above the edit box. This will automatically produce your name and the date. Signing your comments is important, as it lets other editors know who has posted which comments.
Again, welcome!
User:Jr Mime/Signature
01:36, June 21, 2014 (UTC)
Dragon kit
Can you retake that at maximum brightness and with only the dragon items? --

SpineTalk

02:00, June 21, 2014 (UTC)
Your recent uploads
Please reupload them in the .png format. Thank you. Temujin 13:03, June 21, 2014 (UTC)
Our images and media policy is essentially the same as that of the main wiki. Both wikis only allow use of the .gif format for animations, such as special attacks.

Temu

jin

13:18, June 21, 2014 (UTC)

Your edits have been altered per RS:DDD.

Temu

jin

13:22, June 21, 2014 (UTC)

Please read the following policy: RuneScape:Don't delete discussions. By the way, when I asked you to reupload them I didn't mean just change the file extensions or convert them, I meant that you actually have to take the images again. Converting them will leave dithering effects.

Temu

jin

13:31, June 21, 2014 (UTC)
Re:Request/regarding file formats.
Use Special:Contact/rename-account to request a name change. Note that you can only ever make one. Temujin 13:40, June 21, 2014 (UTC)
I noticed. Thank you for doing that. I have cropped the image for you and renamed it. In future, be sure to sign your posts on talk pages using ~~~~ and adhere to RS:IMG#NAME when naming files.

Temu

jin
Community content is available under
CC-BY-SA
unless otherwise noted.