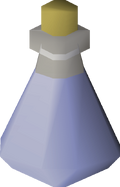 The vial of liquid is a quest item used in the Recruitment Drive quest. It is used on a metal spade head after adding acetic acid, cupric sulphate and sodium chloride in order to heat it so that it sticks in a hole in a door. Afterwards, the spade head can be used as a door handle to open the door.
Trivia
Dihydrogen monoxide is the scientific name for water.
NPCs

Sir Amik Varze • Sir Tiffy Cashien • Lady Table • Sir Kuam Ferentse • Sir Spishyus • Miss Cheevers • Sir Ren Itchood • Ms. Hynn Terprett • Sir Tinley

Enemies

Sir Leye

Items

 Grain •  Fox •  Chicken •  Cupric sulfate •  Acetic acid •  Gypsum •  Sodium chloride •  Nitrous oxide •  Vial of liquid •  Tin ore powder •  Cupric ore powder •  Metal spade •  Metal spade (head) •  Alchemical notes •  Bronze key •  Chisel •  Bronze wire •  Shears •  Magnet •  Knife •  ??? mixture •  Makeover voucher •  Hourglass

Tin

 Empty •  Gypsum •  Hardening •  Impression •  Tin •  Copper •  Tin and copper •  Key •  Strange

Initiate armour

Music

Related
Community content is available under
CC-BY-SA
unless otherwise noted.