GTA: The Criminal Enterprises - The Loop
Play Sound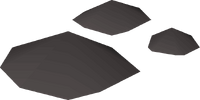 Volcanic ash is obtained from mining ash piles found around the Fossil Island Volcano. Doing so requires level 22 in Mining, and grants 10 experience per set of ash mined. Mining gloves, Varrock armour of any tier, or the Mining cape do not affect the yield when mining volcanic ash.[1] Gemstones can be obtained while mining ash piles.
Although the amount of volcanic ash mined increases as the player's Mining level increases, the experience gained from mining it does not increase.
| Mining Level | Volcanic Ash |
| --- | --- |
| 22 | 1 |
| 37 | 2 |
| 52 | 3 |
| 67 | 4 |
| 82 | 5 |
| 97 | 6 |
*Temporary skill boosts do work here.
Volcanic ash is used to create a variety of farming-related items. One may be used on a harralander potion (unf) to create a compost potion. 25 volcanic ash may be used on a compost bin filled with supercompost for 15 buckets of ultracompost essentially saving 5 ashes per bin (volcanic ash can be used right after a compost potion) alternatively two ashes may be used on a bucket of supercompost to create an ultracompost.
If players have read the ash covered tome, they can have the Fertile Soil spell treat a farming patch with ultracompost instead of supercompost by casting the spell while having two volcanic ash in their inventory.
References
↑ Jagex. Mod Ash's Twitter account. 9 September 2017. Mod Ash: "[Do Varrock armor, mining cape and mining gloves affect mining volcanic ash?] No."
Mining rocks and sources

Copper • Tin • Essence • Clay • Chocolate • Blurite • Limestone • Iron • Daeyalt • Elemental • Silver • Ash • Coal • Sandstone • Gold • Gem rocks • Granite • Mithril • Lunar • Lovakite • Adamantite • Runite • Amethyst

Ores

 Copper •  Tin •  Blurite •  Iron •  Daeyalt •  Elemental •  Silver •  Coal •  Gold •  Blasted •  Mithril •  Lunar •  Lovakite •  Adamantite •  Runite

Salts

Other mineables

 Clay •  Soft clay •  Chocolate chunks •  Pay-dirt •  Unidentified minerals •  Granite •  Limestone •  Soda ash •  Volcanic ash •  Sandstone • Uncut gem •  Rune essence •  Pure essence •  Dense essence block •  Volcanic sulphur •  Amethyst

Pickaxes

 Bronze •  Iron •  Steel •  Black •  Mithril •  Adamant •  Rune •  Dragon (or) •  Infernal