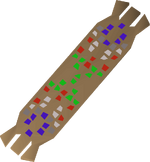 A wampum belt is a quest item used in the Shilo Village quest. It is given to the player at the start of the quest by Mosol Rei outside the east entrance to Shilo Village. The player gives the belt to Trufitus in Tai Bwo Wannai village in order to find out more about the curse placed on Shilo Village.
NPCs

Items

 Wampum belt •  Stone-plaque •  Tattered scroll •  Crumpled scroll •  Zadimus corpse •  Bone shard •  Sword pommel •  Locating crystal •  Bervirius notes •  Bone beads •  Beads of the dead •  Bone key •  Rashiliyia corpse

Locations

Shilo Village • Ah Za Rhoon • Tomb of Bervirius • Rashiliyia's Tomb

Music

Related
Community content is available under
CC-BY-SA
unless otherwise noted.