New Pokemon Games - The Loop
Play Sound
Details
Walkthrough
Starting out
Items needed: 1 inventory space
Getting the relic pieces
Items needed: 2 Ropes (one for each visit to Jangerberry island), dragon bones, a weapon and 1 empty inventory space.
1st crystal - the city
Items needed: Relic, 20 coins, death rune.
2nd crystal - the Skavids
Items needed: Gold bar, light source, skavid map.
3rd and 4th crystals - the Ogre Enclave
Items Needed: 2 nightshades, vial or vial of water, guam leaf, jangerberries, bat bones, pickaxe and pestle and mortar.
Quest complete!
Rewards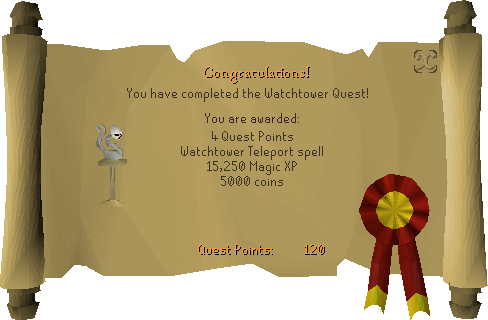 NPCs

Watchtower wizard • Tower guard • Og • Toban • Grew • Ogre guard

Enemies

Skavids

Items

 Crystal •  Fingernails •  Toban's gold •  Toban's key •  Ogre tooth •  Rock cake •  Skavid map •  Ground bat bones •  Magic ogre potion •  Shaman robe

Useless

 Old robe •  Unusual armour •  Damaged dagger •  Tattered eye patch

Ogre relic

 Ogre relic •  Part 1 •  Part 2 •  Part 3

Locations

Music

Related

Quick Guide