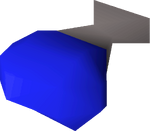 A water orb can be created using the Charge Water Orb spell with an unpowered orb and runes in your inventory on a water obelisk  (requires level 56 Magic, 30 water runes, 3 cosmic runes, and an unpowered orb). The obelisk can be reached via a ladder in the black dragon area inside Taverley Dungeon. Water orbs are also a common drop from waterfiends. It is used in creating a water battlestaff by adding the orb onto a normal battlestaff.
Fastest ways to get to the Taverley Dungeon include:
With 80 Agility, one can quickly access the obelisk by using the "strange floor" jump near the entrance to the dungeon. With 70 Agility, you can use the pipe to squeeze through to the blue dragons, which provides a reasonably quick route to the obelisk. Without 70 Agility, you must walk the entire length of the dungeon, which takes several minutes, and you will also need a dusty key.
Using a water orb on a battlestaff makes a water battlestaff, yielding 100 Crafting experience (requires level 54 Crafting).
Dropping monsters
| Monster | Combat level | Quantity | Rarity |
| --- | --- | --- | --- |
| Waterfiend | 115 | 1–16 (noted) | |
| Cave kraken | 127 | 2 (noted) | |
 Unpowered orb •

 Air orb •

 Earth orb •

 Fire orb •

 Water orb