No Man's Sky Update - The Loop
Play Sound
The White Wolf Mountain is a natural region in the Member's only area. It acts as a mountainous border between Taverley and Catherby, and as a borderline between the kingdoms of Asgarnia and Kandarin. The mountain is notorious for being a dangerous area for low levelled players wishing to travel to Kandarin.
White Wolf Tunnel
Once a player has completed the Fishing Contest Quest, a tunnel that travels underneath the mountain becomes accessible. This tunnel features a cart station that leads to Keldagrim. The tunnel proves especially useful to low-level players because it avoids the dangerous monsters that live on White Wolf Mountain.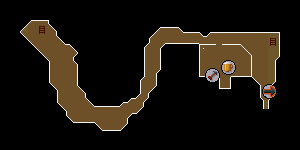 Glider
A Gnome glider is located at the center peak of the mountain, but it is only accessible to players after they have completed The Grand Tree quest.
Grapple shortcut
There is a Mithril grapple Agility shortcut located at the entrance of the mountain (when coming from Catherby) that requires 35 Strength, 35 Ranged, 32 Agility. This shortcut, however, can only be used when travelling from Catherby to Taverley.