A windmill is a place where you can grind grain into flour. To use the mill, a player must place their grain into the hopper on the top floor and operate the hopper controls. The flour can be collected on the ground floor, by using a pot on the flour bin. Making flour does not grant players any Cooking experience. The flour bin can hold a maximum of 30 flour before it is full.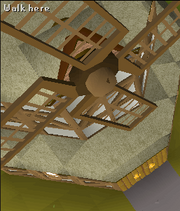 Locations
Windmills are marked on the map with a yellow icon (

).
Players can find windmills in these locations:
Trivia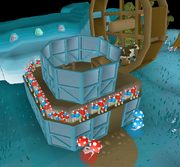 The Zanaris mill is not powered by wind - instead, it is powered by a cow.
All flour bins across Gielinor are linked. Therefore, if a player leaves flour in one location, it can be retrieved later at another location. This excludes the Zanaris and Harmony Island windmills, as those require Lost City and The Great Brain Robbery to access, respectively.
Sweetcorn can be put in the hopper, to obtain a pot of cornflour for Recipe for Disaster. However, the mill on Harmony Island will not work for this, stating that the mill is "not built well enough to be used for anything but flour".