Details
Start point
Talk to the boy near the gate entrance of Taverley.
Official difficulty
Intermediate
Description
A young boy who lives in Taverley has kicked his ball into the garden of a scary old lady.

He asks you to get it back for him. This proves more difficult than it first sounds.

Length
Short
Requirements
The ability to defeat 4 monsters from level 19 to 53 without a break.
Items required

Recommended:

Enemies to defeat
Walkthrough
Getting started
Talk to the Boy standing by the long garden east of Taverley, next to the members gate.
Entering the house
Go west to the front door of the north house across from the PoH portal.
Search the northern potted plant for a key and enter.
Go into the basement and, while wearing gloves, enter the gate. (search the boxes for a pair of gloves)
Search the cupboard.
Go back up the ladder and pick up the diary on the table, and read all of the pages (you can't get the key in the next section without reading it).
Proceed to the small room to the south.
Use Cheese on the Mouse Hole on the eastern wall.
Use the magnet on the mouse.
Retrieving the ball
Head to the fountain. Full run and or a Stamina potion will make this a little easier.

Note: Use the hedges to hide from the witch or most of the above steps will need to be repeated.
Note: You need to make a full round around the hedges, you cannot skip over the grass.
Note: If you are caught you will need to repeat the cheese/magnet steps with the mouse to unlock the door again.

Search the fountain.
Go to the shed and use the key on the door.

Note: do not take the ball now, as it will lower your stats.

Kill the Witch's experiment four times.
Finishing up
Take the ball.
Leave by exiting the Witch's house through the front door. (Teleporting will remove the ball and you will have to do it again!)
Go back to the boy and give him the ball.
Quest complete!
Reward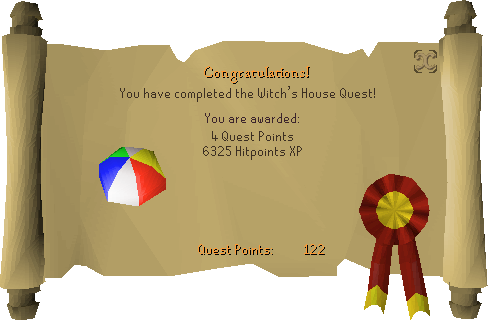 Community content is available under
CC-BY-SA
unless otherwise noted.