Details
| | |
| --- | --- |
| Start point | Talk to Hetty in her house in Rimmington, south of Falador and west of Port Sarim. |
| Official difficulty | Novice |
| Description | Become one with your darker side. Tap into your hidden depths of magical potential by making a potion with the help of Hetty the Rimmington witch. |
| Length | Short |
| Requirements | The ability to defeat a level 1 Rat. |
| Items required | |
| Enemies to defeat | Rat (level 1) |
Walkthrough
Getting started
Obtaining the rat's tail
Kill a rat in the archery store directly west of Hetty to get a rat's tail.
Obtaining all other ingredients
Eye of newt: Buy from Betty for 3gp.
Burnt meat: Run to the chapel south of Port Sarim. Kill a giant rat and take raw rat meat. Run to the house north of Hetty. Use raw rat meat on range. If you accidentally cook the meat you can re-cook it on the range to burn it. (Don't accidentally eat the cooked meat!)
Onion: Pick from onion field north of Rimmington.
Finishing up
Talk to Hetty while carrying all four items.
Drink from the cauldron.
Congratulations! Quest complete!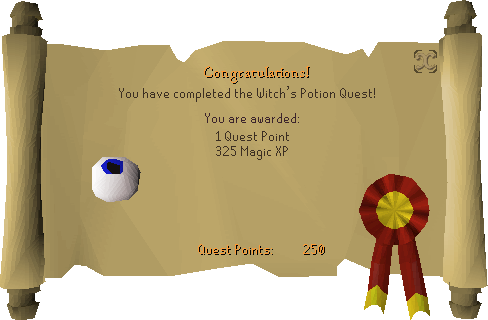 Community content is available under
CC-BY-SA
unless otherwise noted.