Fire Emblem Warriors: Three Hopes - The Loop
Play Sound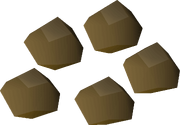 Yew seeds are the second highest level tree seeds that can be grown in a standard tree patch, after magic seeds. Players must have level 60 Farming to plant it. Boosts are allowed. Also, if you use a boost to plant a yew seed, you don't need to boost your Farming level again to prune the tree.
A yew seed, when planted in a plant pot, allowed to sprout into a sapling and then planted in a tree patch, may grow into a yew tree. Planting the seed gives 81 experience and takes about 6.67 hours to be fully grown. Checking the health gives 7069.9, for a total of 7150.9 experience per seed (unless the tree dies while growing).
They are obtained from a bird nest that has dropped from a tree, received from a bird house, by exchanging the drops from a Giant Mole under Falador Park, or as a drop from certain boss monsters. It is also possible to obtain this seed from a bird nest from the Managing Miscellania rewards at Miscellania (after Throne of Miscellania) and Etceteria (after Royal Trouble).
The farmer will tend a player's yew tree for 10 cactus spines (these can be noted). However, for yew trees, it is much cheaper on average to just use ultracompost and not pay the farmers. Buying the spines and seeds in the Grand Exchange, the payment would cost 12,940, while a seed only costs 68,162. About 1/8 yew saplings will die. In a test of 257 yew trees with no farmer payments, only 36 have died.
A fully grown yew tree can be cut to yield yew logs and grant Woodcutting experience. After it is cut down, it will eventually regrow, however it is also possible to use a spade on the cut tree roots, yielding the player some yew roots and make the tree patch available for planting a new tree. The amount of roots given depends on the player's Farming level (boosts can be used):
At level 60, a player obtains one yew root.
At level 68, a player obtains two yew roots.
At level 76, a player obtains three yew roots.
At level 84, a player obtains four yew roots.
Farming info
Dropping monsters
Allotment

 Potato •  Onion •  Cabbage •  Tomato •  Sweetcorn •  Strawberry •  Watermelon

Flower

 Marigold •  Rosemary •  Nasturtium •  Woad •  Limpwurt

Herb

 Guam •  Marrentill •  Tarromin •  Harralander •  Gout tuber •  Ranarr •  Toadflax •  Irit •  Avantoe •  Kwuarm •  Snapdragon •  Cadantine •  Lantadyme •  Dwarf weed •  Torstol

Hop

 Barley •  Hammerstone •  Asgarnian •  Jute •  Yanillian •  Krandorian •  Wildblood

Bush

 Redberry •  Cadavaberry •  Dwellberry •  Jangerberry •  Whiteberry •  Poison ivy

Tree
Fruit tree

 Apple tree •  Banana tree •  Orange tree •  Curry tree •  Pineapple •  Papaya tree •  Palm tree

Special seeds

 Seaweed •  Teak •  Grape •  Mushroom •  Mahogany •  Cactus •  Belladonna •  Calquat •  Spirit

Other seeds

 Blindweed •  Crystal (small) •  Grass •  Hardy gout tuber •  Hardy gout tubers •  Kelda •  Pine tree •  White pearl

Tithe Farm seeds
Chambers of Xeric
Garden of Tranquillity

 Delphinium •  Pink orchid •  Pink rose •  Red rose •  Snowdrop •  Vine •  White rose •  Yellow orchid