No Man's Sky Update - The Loop
Play Sound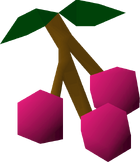 Zamorak's grapes are a special type of grape that can be obtained by players through harvesting grapes in the Hosidius House Vinery while having Bologa's blessings in their inventory.
For each grape harvested, one blessing is consumed, so multiple blessings are required for each vine patch if the player wishes to harvest a full patch of Zamorak's grapes.
Zamorak's grapes cannot be consumed on their own; instead they are a Cooking ingredient used in making wine of zamorak at level 65 Cooking by using them on a jug of water.
Trivia
Allotment produce

 Potato •  Onion •  Cabbage •  Tomato •  Sweetcorn •  Strawberry
 Watermelon

Flower produce

 Marigolds •  Rosemary •  Nasturtiums •  Woad leaf •  Limpwurt root

Hops

 Barley •  Hammerstone hops •  Asgarnian hops •  Jute fibre •  Yanillian hops •  Krandorian hops •  Wildblood hops

Bush produce

 Redberries •  Cadava berries •  Dwellberries •  Jangerberries •  White berries •  Poison ivy berries

Tree produce
Fruit tree produce

 Cooking apple •  Banana •  Orange •  Curry leaf •  Pineapple •  Papaya fruit •  Coconut

Special produce

 Giant seaweed •  Grapes •  Zamorak's grapes •  Mushroom •  Cactus spine •  Cave nightshade •  Calquat fruit •  White tree fruit