This article is about the normal variant. For the stronger variant, see
Ancient Zygomite
.

Zygomites, referred to as Mutated Zygomites by the Slayer masters, are monsters that appear as Fungi until provoked (Pick Fungi) that require level 57 Slayer to damage. They resemble giant mushrooms, and are only found in Zanaris, near the Cosmic altar (level 86), or near the furnace (level 74). Players must use fungicide spray on Zygomites to kill them.
The Fungicide spray must be reloaded every ten kills. The reloads, Fungicide, can be bought from the slayer master or obtained as a drop from Zygomites. Players cannot sell the spray or reloads back to the slayer master afterwards, so only buy what is needed.
Players who have been given a Mutated Zygomite Slayer assignment can choose to kill Ancient Zygomites as an alternative for the task.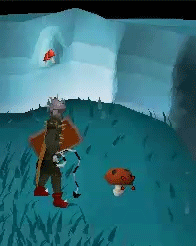 Strengths and weaknesses

Zygomites mostly use magic-based melee headbutt which can hit substantial amounts, but they occasionally use more powerful magic-based ranged attacks by shooting spores. Dragonhide armour is strongly recommended while fighting them, as the high Magic defence will reduce the chance of them hitting you. If praying against their attacks, Protect from Missiles is recommended, as their ranged attacks are stronger and more accurate than their melee attacks.
Location
Zygomites are located in Zanaris in two areas:
Cosmic altar - Level 86 Zygomites are found here
East of the furnace - Level 74 Zygomites are found here
Drops
100%
Runes
Seeds
Herbs
Weapons/Armour
Other
Rare drop table
In addition to the drops above, this monster also has access to the rare drop table.
Slayer Tower

 Crawling Hand •  Banshee •  Infernal Mage •  Bloodveld •  Aberrant spectre •  Gargoyle (Boss • Dusk • Dawn) •  Nechryael •  Abyssal demon (Boss)

Fremennik Slayer Dungeon

 Cave crawler •  Rockslug •  Cockatrice •  Pyrefiend •  Basilisk •  Jelly •  Turoth •  Kurask

Lumbridge Swamp Caves
God Wars Dungeon (Wilderness)

 Pyrefiend •  Bloodveld •  Spiritual ranger •  Spiritual warrior •  Spiritual mage

Stronghold Slayer Cave
Catacombs of Kourend

 Twisted Banshee •  Warped Jelly •  Mutated Bloodveld •  Deviant spectre •  Brutal black dragon •  Greater Nechryael •  Abyssal demon •  Dark beast

Wyvern Cave

 Long-tailed Wyvern •  Spitting Wyvern •  Taloned Wyvern •  Ancient Wyvern

Others

 Desert Lizard •  Mogre •  Harpie Bug Swarm •  Killerwatt •  Molanisk •  Terror dog •  Sea snake (Young) (Hatchling) •  Brine rat •  Fever spider •  Mutated Zygomite (Ancient) •  Cave horror •  Dust devil •  Skeletal Wyvern •  Cave kraken (Boss) •  Dark beast •  Cerberus •  Smoke devil (Boss)

| | |
| --- | --- |
| Superior monsters |  Crushing hand •  Chasm Crawler •  Screaming banshee (Twisted) •  Giant rockslug •  Cockathrice •  Flaming pyrelord •  Monstrous basilisk •  Malevolent Mage •  Insatiable Bloodveld (Mutated) •  Vitreous Jelly (Warped) •  Cave abomination •  Abhorrent spectre (Repugnant) •  Choke devil •  King kurask •  Marble gargoyle •  Nechryarch •  Greater abyssal demon •  Night beast •  Nuclear smoke devil |
Community content is available under
CC-BY-SA
unless otherwise noted.